Anthony and I are expectantly waiting for a specific answer to a specific prayer. Neither of us is exceptionally patient. And, no, we didn't pray for patience.
In my scripture study today, I came to "Or what man is there of you, whom if his son ask bread, will he give him a stone?"
Here is that verse in context of the Sermon on the Mount.
Ask, and it shall be given you; seek, and ye shall find; knock, and it shall be opened unto you:

For every one that asketh receiveth; and he that seeketh findeth; and to him that knocketh it shall be opened.

Or what man is there of you, whom if his son ask bread, will he give him a stone?

Or if he ask a fish, will he give him a serpent?

If ye then, being evil, know how to give good gifts unto your children, how much more shall your Father which is in heaven give good things to them that ask him?
Isn't it interesting how your mind is directed in new ways when you read a familiar scripture?
Mine immediately flashed to promises of bread that my ancestors received after freely giving.  Three specific ancestors and stories came to mind.
John Tanner
My ancestor John Tanner joined The Church of Jesus Christ of Latter-day Saints in 1832 while living in New York state.
In December, 1834, the church was in serious financial trouble.  The Kirtland temple, still being built, was about to be destroyed because of the mortgage payment on the lands were past due.  The Church had no way to pay for the Temple. In council, Joseph Smith and the disciples prayed that a way would be provided to keep the land.

That night, John "received an impression by dream or vision of the night, that he … must go immediately to the Church"  He sold his property, consisting of 2 large farms, a hotel, several homes, orchards, a dairy, a sawmill, an island, and over 200 acres of timberland. He and his family left on Christmas day, in the middle of winter, and travelled the 500 hundred miles to Kirtland.  They arrived 25 days later, in January of 1835.  Had they arrived just a one day later, they Kirtland land would have been reclaimed.   John paid of the $2,000 dollars owed for the temple, as a loan for the Church, taking a note from Joseph.  He then donated $43,000 to the temple.

Through his giving and investing in the Church bank, his fortune dwindled down to a mere $7.50 in cash.  Still, he and his family followed the prophet and moved to Missouri with the Saints.

"At the April Conference, 1844, Father Tanner was called to take a mission to the Eastern States.  Before starting, he went to Nauvoo to see the Prophet, Joseph Smith, whom he met in the street. He held the Prophet's note for $2,000 loaned in 1835 [roughly 9 years previously], to redeem the Kirtland Temple farm, and in the course of the conversation he handed the Prophet his note.  The Prophet, not understanding what he meant by it, asked what he would have him do with it, and the Father Tanner replied: 'Brother Joseph, you are welcome to it,'
John Tanner gave of his substance in his prosperity. Even when his fortune was gone, his generous nature persisted and he received a remarkable promise which has impacted tens of thousands of his descendants.
Eliza Ellen Parkinson Tanner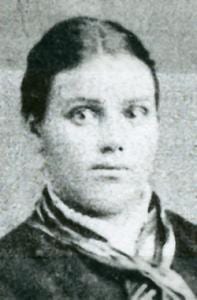 Eliza's parents joined the church in Australia and sailed for America to join the Saints in 1854. Eliza was born in San Bernardino, California. She moved to Beaver, Utah, with her family.  Later, she and her husband Henry Martin Tanner were called to settle Arizona and were in the founding company to settle Joseph City, Arizona.
A long-favorite story my dad still tells on request is of an angelic visitor at Eliza's door.
Men were building the railroad not far from Eliza's home and workers frequently stopped at her door asking for food, though times were hard for Eliza and her family as well.
One day a stranger called at her door asking for food. Eliza told him she only had a tiny bit of flour left for her family.
Despite her voiced concern, the man insisted, "Would you make me something?"
She did.
The man ate the meager meal and then got up and left without a word.
Eliza felt a little frustrated that she'd given him the last of her food and he hadn't even said thank you.  She started for the door after him.
The man looked back into the doorway and called Eliza by her full name, "Eliza Ellen Parkinson Tanner, because you did this for me, your family will never go hungry for want of food."
Stunned, she hurried to the doorway but the man had vanished and was nowhere to be seen.
Eliza gave of her substance in her poverty.  Despite her own indigent circumstance, the promise made to her husband's grandfather (John Tanner) persisted in its blessing and she obtained her own, first-hand promise of that blessing.
Tamer Washburn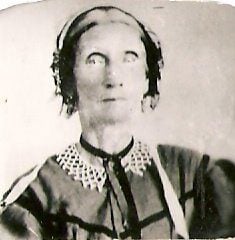 Tamer Washburn joined the church several months after her husband Abraham's conversion in 1838. She initially opposed the gospel, but Parley and Orson Pratt promised Abraham that eventually, Tamer would accept the truth and she did.
Her story was the first that came to my mind. The blessing of bread that she received is a little different from John and Eliza's.
I am that bread of life. …

I am the living bread which came down from heaven: if any man eat of this bread, he shall live for ever: and the bread that I will give is my flesh, which I will give for the life of the world.
An example of Tamer's giving nature and her blessing:
Abraham was a prosperous business man and he gave Tamer a regular allowance of 75 dollars a month. She was saving, and deposited a part of her allowance each month in the bank. Once, Orson Pratt was going to England on a mission; he arrived in New York with no money to pay his traveling expenses. Tamer gave him enough money from her savings account to pay his passage to England.
The Washburns experienced their share of poverty as they fled from mobs and settled in Nauvoo.
On one occasion when [Joseph and Emma] Smith and others were at [the Washburn] home at an evening social, the Prophet arose to his feet and said, "Sister Washburn, there is a special blessing from the Lord to you, and the Lord says that you're just as sure of your Celestial crown as though you already had it on your head."

The sisters assembled said to the Prophet, "This is enough to make us jealous." And then the Prophet said, "This blessing is for Mother Washburn above the rest, because she is a free giver. She could always give and never regret."  Her salvation in the Celestial Kingdom was assured on account of her liberality.
God's Sustaining Bread
Each of these stories reminded me that the Lord is mindful of each of us individually and choices we make have long-lasting consequences. All my life, I've known the stories of physical bread and food promised to my ancestors and their children.  We talked about those stories regularly during difficult financial times in our family.  My parents instilled a faith in me that because of that promise made to my ancestors, we would always have food. And we always have.
Sometimes that food came from friends and family members, and sometimes from strangers. Hundreds of people have given me food over my lifetime. Because of this history, I rarely decline it because I consider it all to be the manifestation of God's promises to my ancestors.
Because of this history, I also rarely ignore an opportunity to share food, too. So sign me up on every refreshment list or meal-to-a-family sign up sheet.  These three ancestors, along with many others, show me that the Lord multiplies the meager and always rewards the giving heart.
Reviewing these stories also reminded me that the Lord provided bread in the wilderness for the children of Israel.  He also offers His sacramental bread to the children of Israel now.  The stories reminded me that
If ye then, being evil, know how to give good gifts unto your children, how much more shall your Father which is in heaven give good things to them that ask him?
And I know our answer is coming.