As we draw closer to April 2020 General Conference, my excitement is off the charts. What will happen during conference? Am I ready to receive what is promised by a prophet of God and available from heaven?
The recent coronavirus outbreak and general panic brought new depth to my preparatory study. Why? I'll explain that in a minute. But just as a reminder, or background, let me start from the beginning of the thought process and quickly get to the end.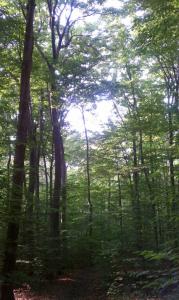 Declaration to Prepare for a Revelatory April General Conference
In his closing remarks during last General Conference, President Russell M. Nelson announced,
In the springtime of the year 2020, it will be exactly 200 years since Joseph Smith experienced the theophany that we know as the First Vision. God the Father and His Beloved Son, Jesus Christ, appeared to Joseph, a 14-year-old youth. That event marked the onset of the Restoration of the gospel of Jesus Christ in its fulness, precisely as foretold in the Holy Bible. …

Thus, the year 2020 will be designated as a bicentennial year. General conference next April will be different from any previous conference. In the next six months, I hope that every member and every family will prepare for a unique conference that will commemorate the very foundations of the restored gospel. …

Immerse yourself in the glorious light of the Restoration. As you do, general conference next April will be not only memorable; it will be unforgettable.
January 2020 Invitation
On social media in January, President Nelson again pled with the Church membership to prepare and promised God "has a vision for each of us."
When I spoke during last October's general conference, I designated 2020 as a bicentennial period commemorating 200 years since God the Father and His Beloved Son, Jesus Christ, appeared to Joseph Smith in a vision. That singular event in human history initiated the Restoration of the Lord's gospel—an unfolding Restoration that continues today.
God loves all of His children and has a vision for each of us. Just as He listened to Joseph's prayer in 1820, He listens to you and yearns to speak with you through the Spirit. We invite you to be a major part of sharing the message of the ongoing restoration of the Savior's gospel. We will share more about this soon, but you can start today by acting on the invitations I extended to you at last general conference to immerse yourself in the glorious light of the Restoration.

You may wish to begin your preparation by reading afresh Joseph Smith's account of the First Vision as recorded in the Pearl of Great Price. Or ponder important questions such as, "How would my life be different if my knowledge gained from the Book of Mormon were suddenly taken away?" or "How have the events that followed the First Vision made a difference for me and my loved ones?"
Select your own questions. Design your own plan. Act on any of these invitations to prepare yourself for sharing the important messages of the ongoing Restoration. It is your personal preparation that will help April's general conference become for you not only memorable but also unforgettable. The time to act is now. This is a hinge point in the history of the Church, and your part is vital.
February 2020 Invitation
In February, President Nelson encouraged us again to strengthen our relationship with Deity.
Today, this most-important invitation from our loving Heavenly Father to listen to the voice of the Lord and to follow His teachings is extended to us.
In this special year as we commemorate the 200th anniversary of the First Vision, I invite you to think deeply and often about this key question: How do you hear Him?

#HearHim
In the video version of this invitation, he said, "I bless you in your efforts to get on and stay on the covenant path and strive with all your heart, might, mind, and soul to 'Hear Him.'"
Has my ability to hear and hearken increased since October 2020? Has the Church's membership as a whole increased its capacity to hear and hearken?

So What About My Coronavirus Relevance to the First Vision?
Joseph describes his journey to theophany in his history canonized in the Pearl of Great Price.
My mind at times was greatly excited, the cry and tumult were so great and incessant….

In the midst of this war of words and tumult of opinions, I often said to myself: What is to be done? Who of all these parties are right; or, are they all wrong together? If any one of them be right, which is it, and how shall I know it? …

While I was laboring under the extreme difficulties caused by the contests…I was one day reading the Epistle of James, first chapter and fifth verse, which reads: If any of you lack wisdom, let him ask of God, that giveth to all men liberally, and upbraideth not; and it shall be given him."

Never did any passage of scripture come with more power to the heart of man than this did at this time to mine. It seemed to enter with great force into every feeling of my heart. I reflected on it again and again, knowing that if any person needed wisdom from God, I did; for how to act I did not know, and unless I could get more wisdom than I then had, I would never know; for the teachers of religion of the different sects understood the same passages of scripture so differently as to destroy all confidence in settling the question by an appeal to the Bible.

At length I came to the conclusion that I must either remain in darkness and confusion, or else I must do as James directs, that is, ask of God. I at length came to the determination to "ask of God," concluding that if he gave wisdom to them that lacked wisdom, and would give liberally, and not upbraid, I might venture. (Emphasis added)
Joseph experienced upheaval. The upheaval in our times (at least for me) centers more on politics and social issues than widespread religious upheaval, though that, of course, exists.
It's The Same Pattern
As he sought answers, Joseph experienced the invitation of a prophet. James admonished him to "ask of God." Joseph pondered that invitation and determined to act.
So, in accordance with this, my determination to ask of God, I retired to the woods to make the attempt. It was on the morning of a beautiful, clear day, early in the spring of eighteen hundred and twenty. It was the first time in my life that I had made such an attempt, for amidst all my anxieties I had never as yet made the attempt to pray vocally.

After I had retired to the place where I had previously designed to go, having looked around me, and finding myself alone, I kneeled down and began to offer up the desires of my heart to God. I had scarcely done so, when immediately I was seized upon by some power which entirely overcame me, and had such an astonishing influence over me as to bind my tongue so that I could not speak. Thick darkness gathered around me, and it seemed to me for a time as if I were doomed to sudden destruction.

But, exerting all my powers to call upon God to deliver me out of the power of this enemy which had seized upon me, and at the very moment when I was ready to sink into despair and abandon myself to destruction—not to an imaginary ruin, but to the power of some actual being from the unseen world, who had such marvelous power as I had never before felt in any being—just at this moment of great alarm, I saw a pillar of light exactly over my head, above the brightness of the sun, which descended gradually until it fell upon me.

It no sooner appeared than I found myself delivered from the enemy which held me bound. When the light rested upon me I saw two Personages, whose brightness and glory defy all description, standing above me in the air. One of them spake unto me, calling me by name and said, pointing to the other—This is My Beloved Son. Hear Him! (Emphasis added).

Here's My Realized Parallels
Joseph suffered a distraction so real and severe that he anticipated his destruction. As individuals, we should expect destructive distractions. Will the onslaught be the same as Joseph Smith's?
Consider this. If the adversary's dark forces attacked us, we'd all testify that we experienced what Joseph did as we sought to follow the prophet's invitation. Why would Satan want to attack that way?
What would be a more subtle yet debilitating distraction than fear and worry and death caused by a global pandemic?! At the very moment of my writing, my state issued breaking news that of the 90 self-quarantined people, the first coronavirus case in Hawaii was identified. Media and social media erupted, which validated the stockpiling and mild panic we've seen over the past week or so.
I'm not saying Lucifer created and disseminated the coronavirus. I am saying that with the prospect and promise of theophany, we should guard ourselves from every distraction against that goal. We should expect adversarial attacks in all their variety in our quest for truth and light and especially as we strive to follow the prophet's counsel to hear the Father's voice.
As we prepare for those attacks, we'll see them—subtle or brazen—in our individual lives and as a global community. For me, the coronavirus has been one way I've seen this consume the lives of my community.
So how do we navigate this potentially life threatening destruction and still remember the prophet's counsel?
General Conference is four weeks away (April 4, 2020). What have you heard since following the prophet's command to seek the Lord's voice and revelation? Have you experienced distractions and darkness before you experienced the light?
My takeaway on this topic is the principle sandwiched between Joseph's darkness and light.
But, exerting all my powers to call upon God to deliver me out of the power of this enemy which had seized upon me….
"Exerting all my powers!"
Save now, I beseech thee, O Lord
Hosanna! We worship the Savior! We worship the Deliverer!
Individually and collectively as a church, we look to Jesus Christ for salvation!
And they did rejoice and cry again with one voice, saying: May the God of Abraham, and the God of Isaac, and the God of Jacob, protect this people in righteousness, so long as they shall call on the name of their God for protection.

And it came to pass that they did break forth, all as one, in singing, and praising their God for the great thing which he had done for them, in preserving them from falling into the hands of their enemies.

Yea, they did cry: Hosanna to the Most High God. And they did cry: Blessed be the name of the Lord God Almighty, the Most High God.

And their hearts were swollen with joy, unto the gushing out of many tears, because of the great goodness of God in delivering them out of the hands of their enemies; and they knew it was because of their repentance and their humility that they had been delivered from an everlasting destruction.