How are you adjusting to this new normal?
I stare out the window watching a lizard lounging on patio furniture in front of my growing baby pineapple. The very slight breeze permeates calm throughout our outdoor space and through my open window. In a flash, the lizard turns to face the other direction. The pineapple reaches towards a sun vaguely peeking through the clouds.
My husband sits nearby diligently working on his laptop to keep business moving along safely for all of his employees. Our bulldog lounges on the couch impervious to any news not involving going or food. The Roomba kicks on. Its sounds disrupt the silence.
Four miles away from me, hundreds of people with Costco carts line the street in a longer line waiting to get into Costco than I could have ever imagined in my wildest dreams. Dire, new statistics of trouble, death, and infection waft around me on invisible TV waves.
The lizard turns again. And again.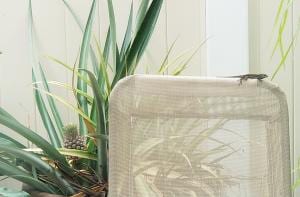 A New Normal
"I can't wait until everything returns to normal" and "Things should turn around soon" are two phrases I've heard repeatedly during this coronavirus crisis.
Of course, it won't return to normal for those who have died or have had loved ones perish.
But what about the rest of us? What normal do we want to return to? Do we want to go back to our old normal? Or have we embraced changes in this current normal that we'd like to keep?
There are things that I do want to return to old normal—like jobs restored, accessibility to grocery store items, movies in the theater, and freedom in travel.
But I've enjoyed the flurry of meme humor that bridged political divides. I've watched in amazement at how churches, governments, and organizations mobilize (or demobilize) to protect the members of their communities. I've loved seeing businesses creating kapuna hours, granting the elderly easier access to stores during a frenzied time.
I've teared up at stories of people observing and giving and serving. I passed a transport van yesterday where an older driver, wearing a mask, assisted an even older aunty out of the van onto the sidewalk towards her home. So many selfless acts of service, especially of first responders and folks in the health care industry, have truly touched my heart. People rise to the occasion. And others don't. Which one am I?
I've felt the Lord's comfort as I've prayed more earnestly for family members, my community, and the world. This current normal is turning my thoughts to the Lord more regularly. I love feeling close to Him.
Amidst the flurry of chaos and the unknown, I keep asking myself, are these and other changes circumstantial only or have I actually changed?
The Olive Tree Began to Decay
As I've studied Jacob 5 this week, I noticed that the Lord of the vineyard began His pruning, digging, and nourishing when He saw that the olive tree "began to decay."
[He] said: I will
it, and dig about it, and nourish it, that perhaps it may shoot forth young and tender branches, and it perish not.
The action in this immense parable really began with the Master of the vineyard noticing decay and acting to preserve the tree.
What have I seen in myself during this crisis? Have I taken the time to ponder and discover what decayed branches I can remove from my life? General Conference is two weeks away! Have I refined my soul enough to receive what the Lord has to offer during conference and any other time?
The tree with the decaying branches had also grown. It flourished in its environment. In its normal, it really was a good tree.
What good do I see in my life? Was I prepared? If not, am I now? What good attributes have blossomed during this crisis? What can I ask for the enabling power of the Atonement of Jesus Christ to help me develop?
Old Normal Versus Current Normal and New Normal
As I watched the lizard repeatedly turn, two scripture stories came to mine.
The first is the story of Lehi's sons. The boys all experienced the same circumstance. Their father uprooted their normal. Living in the wilderness became their new normal. For how long? They didn't know it at the time, but living in the wilderness was the new normal. They basically lived in the wilderness for the rest of their lives. They built communities during their lifetimes, but compared to Jerusalem? Wilderness.
Laman and Lemuel refused to accept a new normal. They pined for the old ways, their old lives. It was better then. They were happier then.
Nephi acknowledged that many things about the new normal were difficult. But in the "wilderness of affliction," Nephi saw the Lord. Nephi received revelations and visions and directions. Nephi prospered spiritually while mourning loved one's losses and dealing with the harshness of his new normal.
And we know that all things work together for good to them that love God, to them who are the called according to his purpose.
Lot's Wife
In
Genesis 19
, the Lord sent angels to get Lot's family out of Sodom and then to destroy the city. Some of Lot's daughters and sons-in-law refused to leave.
And Lot went out, and spake unto his sons in law, which married his daughters, and said, Up, get you out of this place; for the Lord will destroy this city. But he seemed as one that mocked unto his sons in law.
They thought he was crazy! How and why would the Lord destroy Sodom?
And when the morning arose, then the angels hastened Lot, saying, Arise, take thy wife, and thy two daughters, which are here; lest thou be consumed in the iniquity of the city.

And while he lingered, the men laid hold upon his hand, and upon the hand of his wife, and upon the hand of his two daughters; the Lord being merciful unto him: and they brought him forth, and set him without the city.

And it came to pass, when they had brought them forth abroad, that he said, Escape for thy life; look not behind thee, neither stay thou in all the plain; escape to the mountain, lest thou be consumed.
"The angels hastened Lot…and while he lingered…" Just put my name in this story. I feel the Lord's hastening promptings, but I linger. What will that new normal be like? Sometimes I'm hesitant to find out.
Maybe Lot hoped his other children would change their minds and join them. Maybe he was trying to pack just a few more things.
Because the Lord was merciful to him, those angels took Lot, his wife, and their two daughters by the hand and took them outside the city. If your hands are holding angels' hands, you lack much ability to carry anything else.
Escape for thy life; look not behind thee…escape to the mountain, lest thou be consumed.
Run! And don't turn around. Lot's normal was absolutely gone.
Then the Lord rained upon Sodom and upon Gomorrah brimstone and fire from the Lord out of heaven;

And he overthrew those cities, and all the plain, and all the inhabitants of the cities, and that which grew upon the ground.

But his wife looked back from behind him, and she became a pillar of salt.
We don't know why she looked back, but, for me, longing for an old normal always reminds me of Lot's wife.
Go Forward and Not Backward
Hers is a dramatic story. Laman and Lemuel lived in their wilderness. The children of Israel, constantly seeking to return to Egypt when the new normal tested them, chose fear over faith in deciding not to follow God's commandment to overthrow the Canaanites. They wandered in their wilderness for 40 years before getting another shot at the promised land.
But Daniel faced his lion's den. Esther disrupted the culture of the king. Shadrach, Meshach, and Abed-nego preferred the fiery furnace to their current normal. Moroni created a new strategic normal.
Ruth forsook everything to follow Naomi. Disowned, Amulek followed the prophet Alma. Peter, Andrew, James, and John left their nets and their lives completely changed. Mary consented to be the mother of the Son of God. They all forsook their normal.
All of these amazing, real people remind me that where I am now is not my final destination. My goal is not this normal, or any earthly normal. And, hopefully, every challenge, every trial, every crisis brings me to a new normal that is replaced by another new normal until I'm standing in awe and wonder at the throne of God.
Shall we not go on in so great a cause? Go forward and not backward. Courage…and on, on to the victory!