But behold, verily, verily, I say unto you that mine eyes are upon you. I am in your midst and ye cannot see me; (Doctrine and Covenants 38:7.)
How would it be to find the Messiah you worship and adore suddenly in your presence?
How would it be to have Jesus approach your fishing boat and call you to follow Him? Or to have Him open the scriptures to your mind as you walked along a road? Or to have Him visit you in your home and promise you'll have a child?
How would it be to be shown the creation of the world by the Creator of the world? Or to have the heavens open in full vision of the Father and the Son?
Do you make time to experience Him?
Make Time to Experience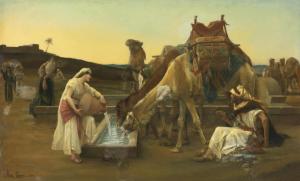 I'd been pondering, for quite some time, stories of people who experienced Christ in the midst of everyday mortality when I read the story of Rebekah. While going about her daily chores, with others doing the same thing, a stranger with ten camels ran towards her (her! He didn't seek assistance from anyone else.) Eliezer, Abraham's servant, ran straight to Rebekah and asked her for water. Rebekah immediately offered water to Eliezer.
And when she had done giving him drink, she said, I will draw water for thy camels also, until they have done drinking.

And she hasted, and emptied her pitcher into the trough, and ran again unto the well to draw water, and drew for all his camels.
I wish we had this story from Rebekah's vantage point. Did she put aside a busy schedule to help Eliezer? Did helping stress her timeline of things to do?
My first thought was, wow, Rebekah lived so that she could serve others. Meaning that she regularly arranged space and time in her life to serve. She did not do the least required, just to get by. She gave man and beast drink until they were "done drinking." She hasted and ran to quickly accommodate every need. She offered lodging to Eliezer and his entourage.
Only then did Rebekah learn Eliezer's identity. Only after all of her effort, not expecting anything in return, did she learn that her availability and willingness to serve changed absolutely everything.
When asked if she would leave her family and all she knew immediately to go to Canaan with Eliezer, Rebekah said, "I will go." I will go. Now. Immediately. Without complaint. Without knowing these people or this man whom I will marry. Without turning back. Without ever knowing if I'll see my loved ones again. I will go. And she did.
Rebekah's story stuck with me after my time for scripture study ended and I hurried on to work. Like many people I know, I often feel stretched thin with multiple jobs and commitments. Part of my thoughts about the people who saw Christ included the understanding that all of them made time for Him to be in their lives. Like Rebekah's availability brought her eternal blessings, our availability can yield a great harvest.
But behold, verily, verily, I say unto you that mine eyes are upon you. I am in your midst and ye cannot see me; (Doctrine and Covenants 38:7.)
When we make time to experience Him, the Lord provides a way to open our eyes that we may see.
By the power of the Spirit our eyes were opened and our understandings were enlightened, so as to see and understand the things of God (Doctrine and Covenants 76:12)
until, eventually,
…when he shall appear, we shall be like him; for we shall see him as he is (1 John 3:2.)