COVID-19 canceled church youth camps in 2020. As things opened up in 2021, our bishop wanted to plan a memorable camp for our congregation's kids aged 12-18; so a youth camp was planned to Six Flags Fiesta Texas in San Antonio one day and tubing down a river one day. I attended as one of five adult leaders.
I'd never been to Six Flags, or any large theme park for that matter, and was excited to try some of the rides. We had twelve girls who broke into groups of people who wanted to ride more adventurous rides and those who didn't. The Church has a rule that leaders and kids can't be totally one-on-one and the girls couldn't go off alone, so as the less adventurous group dwindled, Anna Stratton and I stayed together with two girls who hadn't been to Six Flags before. One of the girls progressively got braver, but one didn't particularly enjoy the rides because of an injured knee. So I would ride the rides with one girl while Anna and the other girl waited for us at the ride entrance.
At the beginning of the day, our fairly large group of girls did a lazy river ride that nestled right under a horrific-looking roller coaster called Iron Rattler. We heard screams of terror pierce the air above us, and I immediately decided I didn't need to ride it. Because my left ear bones are ossified, I can get tweaked and stay dizzy for the rest of the day. Since I had to ferry girls, etc, I just decided to avoid potential disaster caused by riding any whirly rides. The Iron Rattler wasn't whirly, it just looked super scary.
The Iron Rattler is a unique technological marvel combining a classic wooden support structure with modern track and rails crafted of steel, allowing for unprecedented smooth and swift over-banked turns and inversions never before experienced on either a traditional steel or wooden coaster. Utilizing state-of-the-art Iron Horse Track™©® the innovative Iron Rattler provides four over-banked turns, the most of any hybrid coaster today, and will be the first to deliver an inverted barrel roll for an awe-inspiring adventure in and around the surrounding 100-ft. quarry wall setting!

With its unique construction, the Iron Rattler boasts:

A staggering drop of 171 feet with an amazing drop angle of 81 degrees.
A blazing top speed of 70 mph.
Four over-banked turns — more than any other hybrid coaster, and the first of its kind to feature a completely inverted barrel roll.

The Iron Rattler is a force to be reckoned with and a unique technological marvel, combining a classic wooden support structure with modern track and rails crafted of steel . "Six Flags has innovation as part of our DNA and the Iron Rattler will take extreme innovation to a new level with a taller drop, faster speed and steeper banks. This cutting-edge coaster truly marries the best of both classic and modern coaster designs to deliver heart-pounding thrills," said former park president Martin Bozer.
Towards the end of the day, the group of kids remaining at the park planned to meet at Iron Rattler. As we walked in that direction, a thought infiltrated my safety net: "You haven't done anything really scary today. What happened to your fear bucket list?"
Eek. I'd been so good at identifying fears and stepping up to meet them head-on. My fear bucket list hadn't even crossed my mind at the park.
I asked the girl I'd been riding with if she'd like to ride Iron Rattler with the other kids. I said I was going to do it. By the time we got to the attraction, we both decided we'd join the other kids on the ride.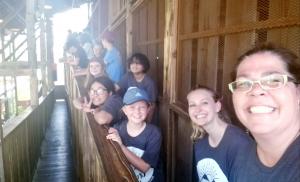 Luckily I couldn't see the actual ride from the entrance to Iron Rattler because I might have changed my mind while we waited for all the kids to join us.
Iron Rattler
The leader with the high adventure ride girls, Christy Kimball, and I chaperoned the group at Iron Rattler. By the time we finally got to the ride, I felt pretty confident like riding Iron Rattler was no big deal.
My ride buddy and I sat at nearly the very back because I thought it would feel safer (potential miscalculation haha).
We began the steep ascent, which is what really made me nervous. It felt like it took FOREVER to get to the top. All that time of ascension, I kept thinking, we have to come down from whatever height we climb. I took off my glasses and clutched them. With my other hand, I clutched the seat clamp thing. I looked over the side once, then riveted my eyes straight ahead.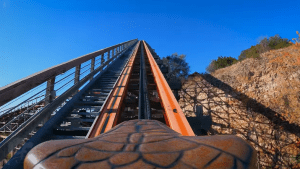 Click, click, click, climb, climb, climb.
Then a pause before gravity demanded action and we fell 17 stories in a flash.
Fun fact: Juxtaposed to all the talking I do, when I am terrified, I am absolutely silent.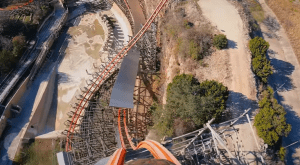 During the terror, I had these very lucid thoughts that I obviously still resisted situations where I feel out of control, that I haven't conquered a fear of dropping 171 feet, that 70 mph feels different when I'm driving in a car, that I needed to look straight ahead so I wouldn't get tweaked, that I needed to hang on to my glasses, that Six Flags wouldn't have the ride if it murdered people. Once as we thundered along the track I told myself to breathe, but I don't think I did.
And then it was over.
We waited on the first level down with some girls who went with us for the rest of the group to join. I collected my thoughts as I sat and listened to their excited banter. And I realized I had done it! And my head hadn't gotten tweaked!
I wanted to go back and ride Iron Rattler immediately since the unknown had become known, but we had some folks who were ready to go and I was the ride. By the time I got back to Six Flags after dropping them, the other girls were ready to go back to our AirBnb, too. But I felt like I had overcome a huge obstacle without the repeat ride.
The Known Doesn't Scare Me
I realized again how once something is known, it loses its terror. My reaction to experiencing the unknown became instructive. Instead of relaxing into the experience, I rigidly resisted, mentally clamoring for the safety of what was known. I didn't care about the thrill of the ride because my rational mind kept trying to predict the next thing, which I didn't do very well.
That translated so well to my life. I've felt jolted and dropped and tumbled. I've had moments of realizing that I had no idea what was going to happen next and I couldn't see the end from the beginning. I've felt fear, feeling like my path was totally terrifying and unknown.
But the older I get, the more I realize that life is a lot like the Iron Rattler. There are terrifying dips and turns, but the path is maintained by a Divine Hand. Even as I've felt derailed a couple of times, when I've been ready, that Divine Hand helped me back onto the track and got me going again. As I've kept commandments and become more confident in the Lord's reciprocal blessings, the journey seems fun or at least doable and I don't stress about upcoming tumbles or tunnels as much.
I've especially relied on two Old Testament scriptures when I catapulting down life's 171-foot drops when I don't know what's coming at me next:
Have not I commanded thee? Be strong and of a good courage; be not afraid, neither be thou dismayed: for the Lord thy God is with thee whithersoever thou goest (Joshua 1:9).
and
Fear thou not; for I am with thee: be not dismayed; for I am thy God: I will strengthen thee; yea, I will help thee; yea, I will uphold thee with the right hand of my righteousness. (Isaiah 41:10).
I know the Lord is with us and does uphold and help us, even when we forget to breathe or when all we want is to go back to safety.
[S]hall we not go on in so great a cause? Go forward and not backward. and on, on to the victory! Let your hearts rejoice, and be exceedingly glad …. (Doctrine and Covenants 128:22).