On a recent morning walk, while listening to an inspiring audiobook about being a true disciple of Jesus Christ, a new thought trickled through my mind and heart:
The Savior's atonement heals sins, weaknesses, sorrows, and every wound of mortality. Sins, weaknesses, sorrows, and wounds of mortality are all part of the natural man. Cast off all of them.
I literally stopped in my tracks and turned off my audiobook. "What?" I asked. Startled, I needed more information.
Mosiah 3:19 then came to mind.
For the natural man is an enemy to God, and has been from the fall of Adam, and will be, forever and ever, unless he yields to the enticings of the Holy Spirit, and putteth off the natural man and becometh a saint through the atonement of Christ the Lord, and becometh as a child, submissive, meek, humble, patient, full of love, willing to submit to all things which the Lord seeth fit to inflict upon him, even as a child doth submit to his father.
Totally engrossed in my thoughts, I walked slowly home considering ways I could cast off weaknesses, sorrows, and wounds like I have cast off sin (and continue to need to cast off sin.)
I've pondered the concept for days and realized I had a complete paradigm shift on the subject. I felt compelled to give place for this experiment upon the word here.
Putting Off the Natural Man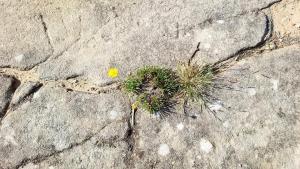 I did a hardcore analysis of how I categorize, purge and/or convey to long-term storage sin, weakness, sorrows, and wounds.
For me, casting off sin is an obvious purge. Scriptures and prophets clearly prescribe the removal of sin's blot, and I try to repent as quickly as I recognize the need.
I considered weakness the fallout of the Fall, something to be overcome, but not necessarily prohibiting my progress in the same way as sin. The Savior promised that
if men come unto me I will show unto them their weakness. I give unto men weakness that they may be humble; and my grace is sufficient for all men that humble themselves before me; for if they humble themselves before me, and have faith in me, then will I make weak things become strong unto them.
So weakness can and should be cast off and changed by Jesus Christ.
In many ways, I've worn my wounds like a badge of honor. "Life did this to me and I've survived and you can, too!" As I've clung to the iron rod with one hand, I've used my free hand to drag my sorrows along behind me in some kind of indestructible burlap bag.
While I've fallen at the Savior's feet pleading for grace and healing, and He has mercifully healed the wounds and sorrows I've brought Him and I know I'm a different person, I realized I've subconsciously felt like the spirit of the wounds and sorrows would somehow be perpetually near me so I could testify of Christ's healing or perhaps I kept it near to rationalize relapses of old thinking and behavior.
On my next early morning walk, while still mentally sifting and sorting, I wondered about the options for dealing with healed/healing sorrows and wounds. What other ways existed besides how I dealt with them?
Suddenly my mind's eye saw an image discarding sorrow's indestructible burlap bag, leaving it by the wayside. Instead of walking forward, the image moved upward and I saw wound's "shadow self" fall to the ground. They were cast off!
Words are inadequate to fully express what I learned, but in that moment I could sense that while the image experienced mortality in a telestial way, she could experience and then move through the experiences rather than perpetually dragging the experience with her. As she "putteth off" all the remnants—sins, weakness, wounds, and sorrows—of this world, her natural man, she retained the experiences' purifying and educative impacts without the baggage weighing her down.
Kintsukuroi = Golden Repair
Same lesson, different metaphor.
Kintsukuroi is
the Japanese art of repairing broken pottery by mending the areas of breakage with lacquer dusted or mixed with powdered gold, silver, or platinum … As a philosophy, it treats breakage and repair as part of the history of an object, rather than something to disguise.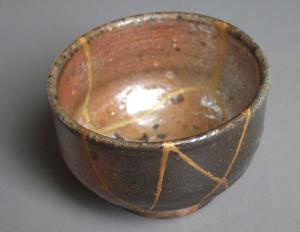 I've enjoyed the metaphor of kintsukuroi because I love gold work, but felt some subtle discordance with the metaphor's complete application. When still trying to understand my lesson, a gold-repaired piece of pottery crossed my mind. Then in an instant, the golden wounds disappeared and the pottery stood complete, whole, and perfect.
Becoming a New Creature
It was a perfect bowl. Then it was broken. Then it was repaired. Then it was perfect, reborn, a new creature.
Therefore if any man be in Christ, he is a new creature: old things are passed away; behold, all things are become new (2 Corinthians 5:17.)

And the Lord said unto me: Marvel not that all mankind, yea, men and women, all nations, kindreds, tongues and people, must be born again; yea, born of God, changed from their carnal and fallen state, to a state of righteousness, being redeemed of God, becoming his sons and daughters; And thus they become new creatures; and unless they do this, they can in nowise inherit the kingdom of God (Mosiah 27:25, 26.)
A new creature … without baggage or visible history but with gained intelligence. And "whatever principle of intelligence we attain unto in this life, it will rise with us in the resurrection."
A new creature who used this mortal journey to turn to Christ who promised, "Know thou, my [child], that all these things shall give thee experience, and shall be for thy good."
And it came to pass that when Jesus had said these words he perceived that there were some among them who marveled, and wondered…for they understood not the saying that old things had passed away, and that all things had become new.

And he said unto them: Marvel not that I said unto you that old things had passed away, and that all things had become new (3 Nephi 15:2,3.)
I marveled. And then I learned that as I put off all remnants of the natural man, I can be completely and totally made new in the Healer's purifying atonement.