Several years ago my brother Daylen Bushman began a habit of Sunday morning walks that resulted in
deep inner peace
. This simple intentional act yields a bountiful harvest for him, and I wanted to share his thoughts with you.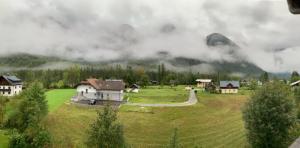 Peace by Daylen Bushman
I love Sunday mornings. For the past several years, I have been waking up early on Sunday mornings to go for an hour-long walk. I am a pretty fast walker and typically cover four miles during my hour-long walk. I have dozens of different paths that lead me two miles out and two miles back home.
Sometimes it rains. Sometimes it snows. Sometimes it is really cold. Sometimes it is perfect. Sometimes my kids or brother accompany me, but most of the time it's just me.
I love these Sunday morning walks. There is a peace in nature carried on the cool breeze before the sun peaks over the mountains and before the roads are filled with people and cars hustling and bustling to various destinations. The natural tranquility calms my spirit and rejuvenates my soul.
My weekly walk has become an integral part of my communion with the Lord. As Enos stated in Enos 1:4, my "soul hungers" for the peace and comfort that comes from our Heavenly Father and His Son Jesus Christ. I share with Them the "struggles of my spirit" (Enos 1:10) and seek the simple but powerful whisperings of the Holy Ghost that let me know They are here – watching, listening, and participating with me in this life.
I often ponder scriptures I have read or talks I have listened to in relation to the various happenings in my life. I review work and job opportunities and listen for guidance from the Spirit. I pray for my family and the trials and temptations they may be navigating.
I pled with the Lord when my father was intubated and in the ICU from complications with Covid. I shared the mixed emotions of joy and sadness of having my oldest son leave us to serve a mission (joy of him deciding to serve the Lord and the many people he will meet and sadness for selfishly missing him while he is gone.) I share the matters that fill my mind, but primarily, I am simply looking for peace.
Sunday Morning Walks Yield Peace