Today is the day!
We "saw that it was needful for [us] to obtain another place of residence" when our rental house unexpectedly sold. We'd moved back to help Anthony's mom as long as she needed us. Since her health has significantly improved, we felt the time was right to buy a house again. After diving into a tumultuous seller's market and submitting multiple offers in tandem with what seemed like every other city resident, we found our home. 
We walked through the house soon after it hit the market. We had 15 minutes in the house. The same price to offer came separately to both me and Anthony while walking through the house. The offer was substantially higher than the listing price, but since we wouldn't have to flip the house as we planned to do (buy a house and flip it while living in it), we felt willing to offer more.  Our realtor wrote up the offer and pressed hard for a response that day.
The sellers agreed to our offer and took the house off the market.
Elatedly we thanked the Lord, because the day we went under contract was almost our last day to be under contract and close on a house before we were homeless.
The process has definitely not been without extreme challenges and moving upheavals.  Every Monday under contract brought potentially contract-wrecking news, and we expected to lose the house.  Somehow, Divine intercession preserved the contract, letting us know for sure that that house was meant for us at this time and we are meant for it.
Scriptural Moving Upheavals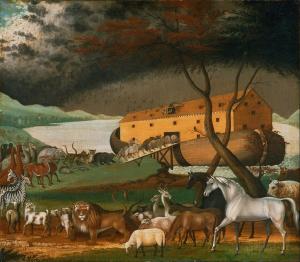 While experiencing our moving upheaval, my scripture study included the more significant upheaval of others. Adam and Eve left the Garden of Eden. Enos and the residue of the righteous left Shulon for a land of promise. Enoch and Melchizedek's people left telestial Earth. Noah and life on the ark moved dramatically. Earth physically divided during Peleg's time.  Abraham and Sarah left Ur and Canaan and Egypt and the plains of Jordan. All of these stories depict the will of the Lord in His children's lives.
Most of these upheavals propelled the experiencer through a wilderness towards a promised land.
And I will also be your light in the wilderness; and I will prepare the way before you, if it so be that ye shall keep my commandments; wherefore, inasmuch as ye shall keep my commandments ye shall be led towards the promised land; and ye shall know that it is by me that ye are led.
Building Altars
After these upheavals, the righteous built altars in whatever place the Lord led them.
For example, after landing on Mount Ararat,
Noah builded an altar unto the Lord; and took of every clean beast, and of every clean fowl, and offered burnt offerings on the altar.
and Abraham built altars wherever he moved.
And I, Abraham, arose from the place of the altar which I had built unto the Lord, and removed from thence unto a mountain on the east of Bethel, and pitched my tent there, Bethel on the west, and Hai on the east; and there I built another altar unto the Lord, and called again upon the name of the Lord.
These scriptural moves record physical movement and change, and they all depict stories of spiritual movement—towards or away from God. This reminds me that even though I live in a time where we don't physically sacrifice animals on altars to worship God, my will is the animal I can offer God on the altar built by the atoning sacrifice of His Beloved Son.
The submission of one's will is really the only uniquely personal thing we have to place on God's altar…when you and I finally submit ourselves, by letting our individual wills be swallowed up in God's will, then we are really giving something to Him! It is the only possession which is truly ours to give!
Whether on the move or not, may we all build altars signifying submission to the Father's will in our lives until we come to our own lands of promise.
In my Father's house are many mansions: if it were not so, I would have told you. I go to prepare a place for you.
moving upheavals