Today we celebrated the life of one of my heroines.  Dee Brown fiercely loved her family and the Lord. She was a healer of broken things — hearts, people, bad ideas, sad days — and a champion of the most vulnerable.  Dee taught special needs kids in the community and then taught teachers how to teach special needs kids. She served on the state board advocating for best practices in the industry. She made a difference.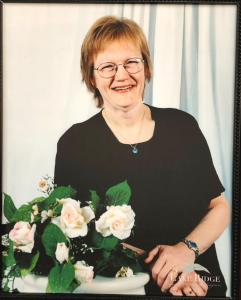 Dee Brown – What an Impact
The Lord placed her in my life at a pivotal moment. We served together as my infertility journey began, and she was a safe space the day I felt the world crashing down around me. I'd decided to keep the heartbreak to myself, not sharing with anyone else, but Dee showed me how trusting others to grieve with me was healing. Then she grieved with me for decades. Whenever she saw me, she'd envelop me in her big Mama Dee hug and hold on until she felt my sadness shift. Those were such healing hugs. Simply encouraging me to share my experience revolutionized the way I dealt with grief so I could process it in a healthier way.
I watched Dee take a back seat at events to make sure the grunt work was done.  She helped with setup and take-downs.  She was one of the "same 10 people" who are always counted on to do everything. Dee observed and served.  She was a doer. Sometimes I noticed that she didn't jump up to clean up. Those moments always found her involved in deep conversation with someone who needed her. Dee always knew what was most important.  She served as hard as Martha with Mary's heart for what really matters.
Dee Brown humbly lifted others. Her teaching heart compelled her to understand needs and meet them in unique ways.  Her creative ideas for how to help people helped me learn to think outside the box and scuttle some expectations for ways things have "always been" for more efficient and personalized ways of serving. She respected everyone and saw everyone in a room.  And Dee was no shrinking violet.  She taught me that respect also looks like setting clear and distinct boundaries for myself and others.
She was light! Her love and faith lit darkened spaces. She fanned the flame of hope in people's souls. Dee shared wisdom and knowledge. She was a teacher who appeared when the student was ready.
Before This Ground Became The Earth
At her funeral, I accompanied one of Dee's very dearest, longtime friends, Dianna. She sang a song she arranged from her mother-in-law's poem called "Before This Ground Became The Earth." That title is amazing! The poem describes a mother and child who knew each other before they came to Earth, the mother promising to prepare the path for her children to follow.  The lyrics describe her efforts to lovingly teach and guide her children and their sorrow as she again left them, preparing the next path for her children to follow. It's deeply touching.
With Dee's profound impact on my life, I resonated with these particular lyrics:
Before this ground became the Earth

I knew you well, I knew you well. …

Our spirits touched, we made a vow to one another

that we would meet again somehow

and find each other …

We feel your sweet love all around

And faintly I can hear the sound

Of words we spoke before our birth,

before this ground became the Earth.

(Words & Music by Victoria Fawcett Boulter, Arranged by Dianna Solari Boulter)
As much as we'll all miss Dee, I know heaven rejoices! How happy They are to have Dee Brown home!  She, beloved, faithful, and true to her covenants and her God!
Oh, Dee!  I love you! I'll listen for your laughter on the birds' songs and pray the wind will wrap me in your healing hugs. Soar with the angels, dear Dee, and know that our lives are forever blessed for having you in them!
Till we meet again.