Because of some life experiences I had, I didn't really trust in the eternal nature of the family until I asked the Holy Ghost to teach me. When the Holy Ghost confirmed the truth to me, not only did I feel the doctrine, but I felt like I could trust and understand the doctrine. I pray that the Holy Ghost will fill all of us with truth and light to deepen our understanding of the eternal nature of families.
Eternal Family Roles By Divine Design
The Family: A Proclamation to the World teaches:
By divine design, fathers are to preside over their families in love and righteousness and are responsible to provide the necessities of life and protection for their families. Mothers are primarily responsible for the nurture of their children. In these sacred responsibilities, fathers and mothers are obligated to help one another as equal partners.
Consider what that means since those roles are eternal. If a mother's role is to nurture her children, how does our Heavenly Mother do that?
If fathers are responsible for necessities and protection, what is God our Father responsible to provide for us? What are the necessities of life? King Benjamin talked about how Heavenly Father gives us breath. Moses taught how the Lord preserved the people from day to day. How do you see His providence in your life? How does Father protect you?
Our family relationships follow this divine design. As Elder Dieter F. Ucthdorf said, "Forever is composed of nows."
Not "Ideal" Circumstances
Nine years ago, I experienced my most devastating miscarriage. While working as an ordinance worker in the Laie temple, I felt excruciating pain; when I got home, I miscarried the baby. That particular miscarriage was especially difficult for me because I was 42, the age when my mom had her last child. In my mind, there was still a chance to have children until I turned 42.
If the whole purpose of life was to create families and eternal units for God's children, I definitely didn't fit God's plan for His children.  I didn't understand His path for us. In the Church, we teach about the ideal eternal family that we're all striving for, but we sometimes miss the part about how to muddle through our usually not ideal situations.
The first time I asked Heavenly Father years ago about my purpose outside of being a mother, I was working over a thousand miles away from home. I sat in a corner of the Portland Oregon Temple's celestial room, desperately seeking revelation.
As I asked, the Holy Ghost told me my purpose in a way I understood. I didn't necessarily like that answer and I've struggled with obediently following that path. But I knew with clarity that I had Heavenly Parents and my Father spoke to me. I felt I could trust Him and that my life had a purpose and despite the un"ideal"ness of my life, I could have joy always.
So I want to testify of the ideal. I know that we have Heavenly Parents, equal in godliness and authority and capable in all ways to be parents who offer salvation to Their children. I know that in our heavenly home, one Brother sought our salvation and another brother sought his own increase. I know we chose which path to follow and mortality is a continuation of that path.
The Temple Teaches Truths About the Eternal Nature of the Family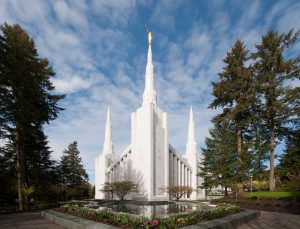 I received my most powerful confirmation of these truths in the temple. The temple is the House of God where we can learn of Him and how to become like Him or not. The temple has sanctifying powers like the sacrament. If we worshipfully approach the sacrament with a repentant heart, we can be sanctified. On the other hand, I could come to church and casually take the bread and water and have nothing significant happen to me. The Lord provides an opportunity for sanctification in the temple.
When we recognize and expect that ordinances have power to change us, then we find that we are changed.
Being Endowed with Power
President Russell M. Nelson recently taught that we are endowed with power in the temple. What does that mean?
The scriptures teach that being endowed with power means we can know the truth of all things. That includes eternal truths and temporal truths.
Being endowed with power enables us to experience the gifts of the Spirit. We have power to ask and receive. We receive power to renew our bodies and command the elements. We have power to evade enemies and avoid harm. We access the power of life over death, which is to retain your life or lay it down as the Lord's plan requires.
Being endowed with power means that through the Atonement of Christ, we can overcome the sins and weaknesses inherent in the Fall. We become holy. And our family relationships with people who also choose to be holy become sanctified.
Why wouldn't Satan oppose a plan that, through Christ, empowers us to exalt ourselves, our spouses, and our families so completely? Every sin and distraction I can think of ultimately attack the eternal family.
We can expect to be attacked by the adversary. We absolutely will be attacked by the adversary. But we need not succumb to those attacks and we certainly shouldn't cower in fear, for Jesus Christ has promised to fight our battles and carry our burdens.
In the dedicatory prayer of the Kirtland Temple, Joseph Smith entreated the Lord for all who worship in temples.
And we ask thee, Holy Father, that thy servants may go forth from this house armed with thy power, and that thy name may be upon them, and thy glory be round about them, and thine angels have charge over them.
We are armed with His power, His name, His glory, and His angels. In the temple, we learn the significance of taking on us the name of God as members of His eternal family.
Eternal Nature of the Family Continues Despite Death
Sometimes circumstances like death force us to face the eternal-ness of the family because we are separated from loved ones now.
In the King Follett discourse, Joseph Smith taught about the eternal nature of God's family:
These are the first principles of consolation. How consoling to the mourners when they are called to part with a husband, wife, father, mother, child, or dear relative, to know that, although the earthly tabernacle is laid down and dissolved, they shall rise again to dwell in everlasting burnings in immortal glory, not to sorrow, suffer, or die any more, but they shall be heirs of God and joint heirs with Jesus Christ. What is it? To inherit the same power, the same glory and the same exaltation, until you arrive at the station of a god, and ascend the throne of eternal power, the same as those who have gone before.
President Harold B. Lee taught that our eternal families are close to us and influence us.
"Where is the spirit world? Is it away up in the heavens? That isn't what the scriptures and our brethren explain. They have told us the spirit world is right here round about us, and the only spirits who can live here are those who are assigned to fill their missions here on earth. This is the spirit world.

 

And if our eyes could be opened we could see those who have departed from us–a father, mother, brother, a sister, a child. We could see them, and sometimes when our physical senses are asleep, sometimes our spiritual self–and we have ears, spiritual ears, and spiritual eyes–sometimes they will be very keen and awake, and a departed one may come while we are lying asleep and come into our consciousness. We'll feel an impression. We'll wake up. Where does it come from? It comes from the spirits of those whom we are sealed to" (The Teachings of Harold B. Lee, p. 58).
Seen or unseen, all of our family members influence or impact our eternal now. My husband's dad, who I called Papa James, was the single greatest influence in Anthony's life. He died 12.5 years ago and we still grieve his physical absence. I will never forget the moment that Anthony, who joined the Church at 24, was baptized by proxy in the temple for Papa James. As Anthony came up out of the water, the Holy Ghost filled him and he cried out that he wasn't alone anymore.
Because of the eternal nature of the family, we are not alone.
Again, the Eternal Nature of Our Relationship with Our Father
The dedicatory prayer of the Laie Temple asks the Lord to sanctify and consecrate the temple, that His Spirit might dwell in that holy house and rest mightily upon all who shall labor there, that all who come to the grounds of the temple, member of the Church or not, may partake of the spirit of peace.
"We most earnestly pray that this sacred building may be a place … in which Thy Son may see fit to manifest Himself and to instruct Thy servants."
That promise is for each of us. All of our Father's promises are available to all of us, even in our unideal circumstances, because we are all part of His eternal family and, through the Atonement of Jesus Christ, we can all become like Him.
Featured Image: The Laie Hawaii Temple