Garden Grove
As the Saints headed westward, Church leaders decided to create a long-term camp at Garden Grove, which was 128 miles from Nauvoo.
Parley P. Pratt recorded
All things being harmonized and put in order, the camps moved on. Arriving at a place on a branch of Grand River we encamped for a while, having travelled much in the midst of great and continued rains, mud and mire. Here we enclosed and planted a public farm of many hundred acres and commenced settlement, for the good of some who were to tarry and of those who should follow us from Nauvoo. We called the place 'Garden Grove.'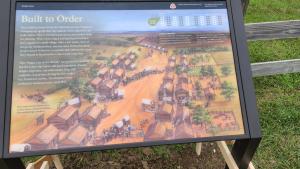 The peaceable followers of Christ, driven again from their homes didn't find, what I would call, real refuge at Garden Grove, but nevertheless still found some measure of comfort.  That amazes me.  And sorrow.  Many of my ancestors experienced crushing sorrow at Garden Grove and during their westward push to Winter Quarters.
These are stories of some of my ancestors who passed through Garden Grove.
Jesse Nathaniel Smith (1834-1906) and Mary Aikens Smith (1797-1877)
Dad's 2nd great-grandfather and 3rd great-grandmother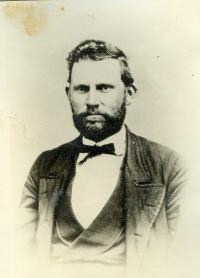 Jesse N. Smith's experience in exiting Nauvoo, printed in the Era.
The memorable march was commenced in February, when President Young crossed the Mississippi river on ice, followed by people of every age, all ranks and conditions; though the aged, the invalid, the young and helpless appeared to predominate.

 

The writer, then but twelve years of age, with his mother, and brother, left the doomed city Nauvoo the following May, but remained during the summer only a few miles away, in Lee County, Iowa. He distinctly remembers hearing the reports of the cannon when the Illinois mob fell upon the remnant of his co-religionists who remained in Nauvoo. This occurred in September, the sounds of strife continued for three days, when the heroic defenders were driven across the river, with their sick and wounded, leaving their homes in the hands of the victors. The casualties on the "Mormon" side were three dead and about twenty wounded. Here they lay on the river bottom entirely without shelter, exposed to the fierce rays of the sun by day, and the chilling damp of the river bottom by night – small wonder that they contracted malaria in its various forms. The leading camps had reached Council Bluffs on the Missouri River, when the government sent them a call for five hundred volunteers for the war with Mexico.  The required number volunteered, and were mustered into service, organized, and, on the 16th of July, marched away. Before leaving Nauvoo, the whole people entered into a public covenant, in their splendid temple, to stand by and assist each other in the mighty exodus.

 

The leading companies had broken land and planted fields for the good of the on-coming stragglers at Garden Grove, and Mount Pisgah. When they heard of the disaster at Nauvoo, true to their covenant, the leading camps sent relief parties to gather up the broken remnants; one of which parties picked up the writer's mother and her little family, reaching the Bluffs in November.

 

The writer made a trip with a friend, during the winter, to the northern counties of Missouri, like Jacob's sons of old to Egypt, to buy corn. We had feather beds to trade, also coverlets and clothing. Corn was cheap, and wheat was dear; we, therefore, took the cheaper breadstuffs. Our people built huts and cabins in which they wintered on the western bank of the Missouri river at the place where Florence now stands. Many died of scurvy during the winter. One permanent improvement, a grist mill, was built. A great amount of hay had been cut, but with the approach of spring, the writer with others engaged in felling the elm trees for the cattle to brouse on their swelling buds; the cattle would come lowing when they heard the trees fall.

 

In April 1847, President Young, with one hundred and forty-three picked men, left for the front, to locate the road and select a place for settlement. The main body would follow more slowly, waiting for the grass.

 
Jesse Nathaniel Smith, in his General Conference talk of 1905
I thank the Lord for what I have received in the Gospel; chief of all, that I have a degree of faith, blessed faith. I have been free from doubt. At the death of the Prophet and Patriarch, the people for a moment seemed helpless, and there sprang up many aspirants, who sought leadership and dignity and honor in the church; yet I was blessed, I had no doubt, and I realized that the Twelve were the men to look to. It was given me of the Lord. Fortunately, I was present at that wonderful meeting where President Brigham Young spoke with the voice of Joseph Smith, and I heard that familiar voice. That strengthened the testimony of many. It was most wonderful. That voice which, as was said of the blessed Redeemer, spake as never man spake! I sincerely hope to remain faithful to this cause. It has not been difficult for me so far. I hope I may have grace and the favor and blessing of the Almighty to continue.
Joseph West Smith about William Smith discouraging his father's family to leave Nauvoo: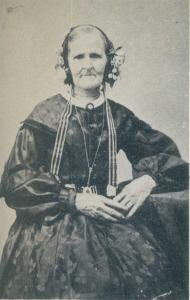 William Smith (Joseph Smith's brother) tried hard to dissuade father's [Jesse's] mother Mary Aikens Smith and family from going off into the wilds with Brigham Young, but they all expressed their purpose of doing so. Then he very dramtically shook the dust off his cloak as evidence that he was not responsible for their actions. With his mother's family, Jesse passed the summer of 1845 about six miles west of Nauvoo until they were picked up by the Church teams that came from Winter Quarters (afterward called Florence, Nebraska) where they arrived November 30, 1846. 
John Griggs (1776-1851) & Lucy Maranda Bailey (1790-1874) White 
Dad's 4th great-grandparents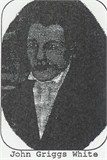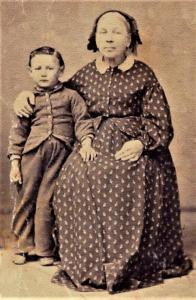 Before they left for the west, John Griggs and Lucy Maranda Bailey White were able to receive their endowment in the Nauvoo Temple. They traveled 145 miles into Garden Grove, Iowa. At this time, Garden Grove consisted of a few rudely constructed log houses and dug-outs which, in spite of their rude construction, offered welcome protection from the persecutions of their enemies and the cold Iowa winters.
Here on November 7, 1846, Mary gave birth to a daughter, Mary Elizabeth White. The prospects were not very bright. In every corner of the little log room were beds on which lay sick people. The crude log houses did not succeed in shutting out the winter. When it rained the roof leaked so badly that buckets and pans had to be shifted around to catch the water. Before the family moved across the plains, another child, William Henry, was born under these trying circumstances. They left Garden Grove in 1848, arriving in Utah in 1850.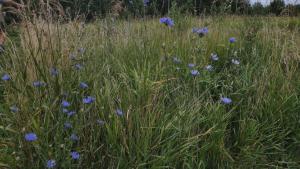 Samuel (1783-1852) and Hannah Shipley (1786-1847) Burton 
Dad's 4th great-grandparents
On 11 February 1846, Samuel and Hannah Burton were forced to leave Nauvoo. Samuel and Hannah were among the first company who left Illinois and camped on the west banks of the Mississippi River.  By the middle of the month, a thousand souls landed on the Iowa shore. The snow was about 18 inches deep and the weather was so intensely cold that the people crossed and recrossed the river with their teams on the ice for provisions and supplies.
A camp formed at Sugar Creek, nine miles further on into Iowa. The people suffered severely, the ground being covered with snow and the weather bitter cold. Sleeping in tents and wagons, they and their sick and aged underwent many hardships.
The first night, nine babies were born to mothers who were housed only by makeshift tents on that hard frozen ground under the glittering stars. 
When it was springtime, March 1846, the entire country from Sugar Creek to the Missouri River was a land of mud and swamp. It took then until June to travel to the Missouri River. 
Hannah was 60 years old and the travel was hard on her. Samuel decided to build a temporary home on the Missouri River banks due to Hannah's bad health. On that farm, Hannah Shipley Burton passed away on July 26, 1847 one year and five months after being driven from Nauvoo. She was too weak and old to stand a life that deprived her of all the common comforts and necessities of life and she contracted a disease induced by the exposure of the bleak prairies. She was greatly missed by her loving family, but an example of faithfulness to her posterity.
Theodore (1801-1871) and Frances Kimberley 
(1800-1847) 
Turley 
Dad's 3rd great-grandparents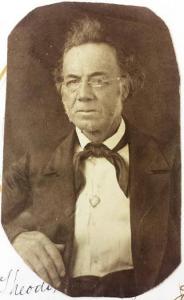 1846 May 12: Three-year-old Johnathan Turley, youngest child of Theodore and Frances, died at Garden Grove Camp in Iowa.
May 13: Johnathan Turley was buried near Garden Grove. Eliza R. Snow wrote, "I saw the funeral train following to its wilderness grave a little child of Br. Turley. It was a lonely sight—my feelings truly sympathize with those who are call'd to leave their dear relatives by the way."
Lucius Scovil (1806-1889)
Dad's 3rd great-grandfather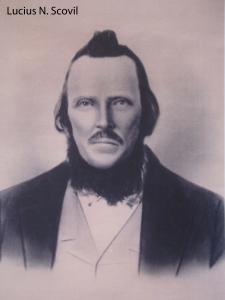 Lucius' wife Lury Snow Scovil died in January before the Saints were forced out of Nauvoo.  Lucius took a little time to get all of his provisions together and deal with his grief. "I was determined to do what was required and do my duty like a man of God. On the 8th day of May, I commenced sending my teams across the river, part of a great camp of Saints." The Scovil family began their westward journey.  
As they traveled, Lucius got word from Brigham Young that he was called immediately to serve a mission to England. Shocked, he traveled until he could make his family secure.
They had traveled for 19 days, when on the morning of May 30th, 1846, he records:
"I arose this morning and proceeded as common to put things in order and truly this was a day long to be remembered by me. Just as we had got our breakfast ready, there were three brethren arrived from the Western camp with a wagon going to Nauvoo, which afforded an opportunity for me to ride back to Nauvoo and I resolved to start on my mission to England, which seemed like a painful duty for me to perform—to have my family go into the wilderness and I turn and go the other way. But inasmuch as I had been appointed to go, I was determined to fill my mission if it cost me all that I had on this earth, relying on the words of Jesus, for He says, 'He that is not willing to forsake all for my sake is not worthy of Me. Your houses, lands, fathers, mothers, wife and children.' Well this saying rang in my ears and I thought it was best to round up my shoulders like a bold soldier of the crop and put shoulder to the wheel, to assist in rolling forth the Kingdom of God, for now that God had set up His Kingdom in the last days and it would roll forth with mighty power until it filled the whole earth. And this duty, which God required of me, that I should go forth to the nations of the earth as it had been predicted upon my head by Father Smith at Kirtland the 27th day of June, 1837. Therefore, I had to take leave of my family without purse or scrip, to perform a journey of 6,000 miles away. Then to look around me and see my wife and children in the flood of tears, this brought sorrow to my heart and I felt to commend them to God, and to bless them by the authority of the Holy Priesthood, charging them to adhere strictly to counsel and to be patient under all circumstances and call upon the Lord day by day and to be united in the bonds of mutual love and friendship. 
Under these peculiar circumstances, I took my leave of them. But never since I have been in this Church have I seen anything in comparison to this trial to think of leaving wife and children to go into the wilderness without my being with them to look after them.  And they weeping to think of my having to leave them and go to a far distant country. 
But I left them, bidding them God speed, but by this time I was completely overcome by my feelings and could not keep from bursting into a folly of tears and thus I left them and started on my mission for England. 
I came as far as Farmington where I stopped and wrote a letter to President Brigham Young, requesting him to take the oversight of my family in case it was necessary."  We traveled about 25 miles that day and encamped in company with Father Fowler. The next day we started again and arrived in Nauvoo a little before night. 
That evening I went to the Temple.  Distance from where I left my family is 40 miles.
On Monday, 1 Jul 1846, he wrote, "I spent the day making arrangements to start for England and found that it was necessary that I should stop here a few days. I met with the brethren in the prayer circle in the Temple that evening. I then concluded to take the dimensions of the Temple and also sketches of the work inside and out, including the baptismal font, which I commenced taking and employed several of the brethren to assist me. It took me ten days besides what time I was employed settling with different individuals. I met with the QUorum in the Temple every evening in No. 1 except one and then I went to the burying ground to place some gravestones where I had buried my wife and children. I had some flat stones about four feet long, two of them. 
Inscription on them:  In memory of Lura, wife of L.N. Scovil, Died Jan 27, 1846–Age 38 years.
Also Martha and Mary Scovil (infants)
The stone was the following: In memory of Joel, son of L N Scovil, died May 10, 1844-age 14 years, 12 days.
I wrote one letter to my wife before I left, but before I left Nauvoo the mob began to rage and threaten the Saints with destruction and in fact, were gathering on the prairie about five miles from town. They shot at a number, whipped several almost to death, and cussed the boys who kept the cows on the prairie, and compelled them to drive the cows into town. The new citizens were greatly enraged at the course pursued by the mob and resolved to defend them at the hazard of their lives. Therefore they organized themselves into companies and the Saints were to back them up and be ready for the second fore. Therefore there was considerable confusion when I left the town. This was the 10 June 1846.  I took my mother with me as she had come from Ohio on a visit to see my family and was waiting to return with me as far as Ohio. 
While on a steamboat, Lucius heard of men on board who claimed to be members of the mobs in Missouri and claimed to have killed many Mormons.  From his diary:
One of the Missourians, by the name of Hyra Myers, said in a boasting manner, that he had from that time forward, concluded that he would kill every Mormon he had a chance to, and especially on the steamboats. He swore that he would throw them overboard, saying he thought it perfectly right to do so. I said to myself, "Good God, can I endure of this?" for I had heard them boast of many things which I knew were true, and my blood boiled in me. It was not known who I was, and I decreed in my heart that I would not endure all this, for I thought that I would rather die on the spot than to think of enduring the anathemas for four or five days, it taking that time to reach Pittsburgh. 
I arose in the strength of Israel's God and told them I was a Mormon and one of the old school. 'For I have heard your boasting and tantalizing of the Saints. Now, Say I, if you wish to carry out these measures which you have threatened to do, you have a candidate, for I am the boy that is ready for you, for you are, all of you, a band of murderers, and I care no more for you than I do for the crackling of the thorns under the pot. Therefore,' I said to them, 'repent and be converted that your sins may be blotted out.'
Then at this instant, Hyra Myers made a spring in the fury of a demon, swearing that he would have my heart's blood and endeavored to obtain a pistol to shoot me with, but hte passengers became alarmed and seized him, holding him by main strength. I ranked them all together, telling them that it was just as bad to be accessory after that act as those who threatened to take my life and seemed determined to do so. But God had overruled it, and they said no more about Mormons. The passengers from teh deck above sought my company, and I got along quite well."
It took 34 days' continuous travel to reach New York City, arriving there July 4th, and of that holiday he records: "This morning was very rainy and as this was the 4th of July the streets were crowded at an early hour and there was nothing to be heard but confusion, such as the firing of cannon and small arms, all kinds of music, fireworks and, in fine, every¬thing that could make a noise or a show, seemed to be on tiptoe. And this had an influence on my mind which was not very agreeable to me. When I see men celebrating the anniversary of the American Independence, it makes my very heart shudder to see people boast of their independence and at the same time from 60,000 to 80,000 are now cast out as exiles from the, government and are making their escape from their enemies, and my family with the rest. And I have been sent forth to preach the everlasting gospel to the nations of the earth and warn them to flee from the wrath to come."
He bought passage on the ship "Fidelis," for which he paid $100. This left him without funds, but before the ship sailed, July 16, he had earned and had donated to him, enough money to see him through.
Of the launching he says, "Monday, August 10th: This morning was fine and pleasant and we got a tugboat and sailed into Liverpool about 12 o'clock and truly my heart rejoiced to set my foot on Terra Firma once more. I got my trunk off the ship and passed the Custom House and when I had paid for cartage, it took every penny that I had, and I had just enough and I felt as if I had good reason to thank my Heavenly Father, to think that I had traveled such a distance and held my own. For when I left my family in the American wilderness, I had not one penny and I have traveled, since I left them, 5,747 miles and here I am in the midst of strangers and no money, yet I will trust in the Mighty God of Jacob to raise up friends for me."
September 7th: "I arose and tried to amuse myself by reading but could not get my mind off my wife and children, and I said, `0, Lord, how long will it be before I can hear from them, or see them. But I must wait with patience and trust in that God that hears the raven's cry and Him who has provided for my wants since I left my family. For truly I have not wanted for money since I started on my mission and my constant prayer to God is that the Lord will put it into the hearts of those with whom they are associated, to provide for their wants and make them comfortable, which may God grant for Christ's sake, amen.'"
On September 24th, he attended a conference; at this meeting were elders who had just arrived and could tell him of the whereabouts of his family: They reported that the camp was 120 miles out from Nauvoo, was well and rejoicing in the Gospel. He was very thankful for this information.
On October 7th he writes: "We then came home and did some writing and while sitting at the table when all was still, I began to reflect about my wife and children. No mortal tongue can express my feelings, for they are past the art of man to describe, yet I feel to rejoice and give thanks to God, my Heavenly Father, that I am yet in the land of the living, and I humbly ask my Father in Heaven to protect my family from the power of the destroyer and from unseen accidents and grant them food and everything which is necessary to make them comfortable, and to lead and guide them in all truth; that they may be ever willing to listen to counsel and be patient under all circumstances in which they are placed; to cultivate the principle of unity."
When released from his mission, Lucius found his family in Garden Grove. They stayed there until February 1848 when he was appointed Agent of Immigration at new Orleans.  He took his wife Alice and left the children with a sister at Winter Quarters.
Lucius served in that calling for a year and joined his family in Winter Quarters in June 1849. 
Samuel Walker (1804-1873) and Margaret Cooper
(1804-1882) 
West 
Dad's 2nd great-grandparents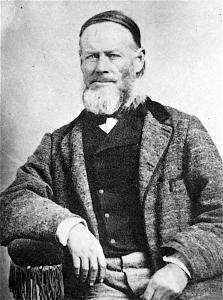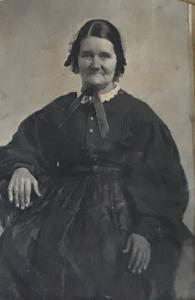 May 4, 1851, Garden Grove, Decatur Co., Iowa
There were a number of bad stampedes which caused trouble[,] delay and losses. It was the general opinion and of my grandparents that the stampedes were caused by thieving Indians or white renegades disguised as Indians. Sometimes two raids were made before daybreak. Searchers saddled horses and rode over the country thereabouts finding only a part of the missing animals, once they completely failed in locating stolen horses and had to go on without them, there were always losses and delays.
From George Cross, historian of their company:
Came to West Prong of Elk Horn River and made that Point on the 12th of July when on that night or the morning following 4 of our best horses were stole[.] several horsemen started on track of them and pursued them over sand hills till their horses were almost exhausted and at last had to give up their chase and come back again. We then thought it best to move on again[,] accordingly which we did and Mr. Telford and Mr. [William G.] Thoms[p]on went back but without success[.] the supposed Indian thieves were gone[.] We then went on through a sandy and barren country when on the 22ndof July at 10 o'clock at night we had the misfortune to witness a dreadful stampede with our horses and cattle[.] The cattle ran over a guard[,] wounding him badly[,] but we soon got them headed and drove them in again at about 11 o'clock[.] they all sprung to their feet again and in spite of our endeavors they got away the second time and scattered in every direction but before day arrived we had the most of them in the herd again and at 7 o'clock we started on our journey[,] hoping this would be the last scene we would have of this kind[.] but we had not proceeded far on our way when some of our cattle got scared and run afoul of some other wagons[.] Ellon [Ellen] Kingsley endeavoring to make her escape from the danger[,] when in the act of jumping out of the wagon fell and[,] the wheels passing over her[,] she died in a few minutes. Several of our wagons were broken[.] we stayed the rest of the day and repaired broken wagons and buried the remains of this our Sister.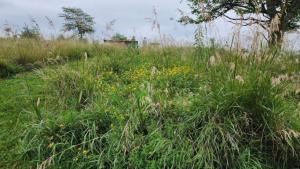 John Tanner (1778-1850) and Sidney Tanner (1809-1895)
Dad's 3rd and 2nd great-grandfather
The Tanners were among the last to leave the Mississippi River, as so many needed help and they had so much to give. When they did leave, they had the best teams and the best "outfits." Sidney is mentioned repeatedly as not being with his outfit, as he was out rescuing someone who was stuck in the mud or who had lost an ox or mule or who was without food.
Because of the compassionate service of John Tanner, Sidney Tanner and John Joshua Tanner, they were designated "bishops" by Brigham Young who had said that, if a man is willing that his property should be disposed of in any way the Lord directed, the Lord was willing he should be a bishop.
John Tanner, Jane Grover (a young woman who traveled to SLC with the Tanners), and a Tanner granddaughter's deliverance from Indians. Summer of 1848
Note that although John Tanner was able to handle his team, the women he was with were protective of his health and well-being. He was 69 years old and may have never fully recovered from his serious head injury at the hand of a Missouri mob
Here is Jane Grover's story from Scraps of Biography. One morning we thought we would go and gather gooseberries. Father Tanner (as we familiarly called the good, patriarchal John Tanner) harnessed a span of horses to a light wagon, and, with two sisters by the name of Lyman, his little granddaughter and I, started out. When we reached the woods we told the old gentleman to go to a house which was in sight, and rest, while we picked the berries. It was not long before the little girl and I strayed some distance from the others, when, suddenly we heard shouts. The little girl thought it was her grandfather, and she was going to answer, but I prevented her, thinking it might be Indians. We walked forward until within sight of Father Tanner when we saw he was running his team around. We thought it nothing strange at first, but as we approached, we saw Indians gathering around the wagon, whooping and yelling as others came and joined them. We got into the wagon to start when four of the Indians took hold of the wagon, two others held the horses by the bits, and another came to take me out of the wagon. I then began to be afraid as well as vexed and asked Father Tanner to let me get out of the wagon and run for assistance. He said, "No, poor child, it is too late!" I told him they should not take me alive. Father Tanner's face was as white as a sheet! 
The Indians had commenced to strip him. They had taken his watch and handkerchief, and while stripping him, were trying to pull me out of the wagon. I began silently to appeal to my Heavenly Father. While praying and struggling, the Spirit of the Almighty fell upon me, and I arose with great power, and no tongue can describe my feelings. I was as happy as I could be. A few moments before, I saw worse than death staring me in the face, and now my hand was raised by the power of God, and I talked to those Indians in their own language. They let go of the horses and wagon and stood in front of me while I talked to them by the power of God. They bowed their heads and answered "yes" in a way that made me know what they meant. Father Tanner and the little girl looked on in speechless amazement. I realized our situation. Their calculation was to kill Father Tanner, burn the wagon, and take us women prisoners. This was plainly shown to me. When I stopped talking, they shook hands with all of us and returned all they had taken from Father Tanner, who gave them back the handkerchief, and I gave them berries and crackers. By this time the other two women came up and we hastened home.
The Lord gave me a portion of the interpretation of what I had said, which is as follows: "I suppose you Indian warriors think you are going to kill us. Don't you know that the Great Spirit is watching you, and knows everything in your hearts? We have come out here to gather some of our Father's fruit. We have not come to injure you: and if you harm us, or injure one hair of our heads, the Great Spirit will smite you to the earth, and you shall not have power to breath [sic] another breath. We have been driven from our homes and so have you. We have come out here to do you good and not to injure you. We are the Lord's people, and so are you; but you must cease your murders and wickedness. The Lord is displeased with it and will not prosper you if you continue in it. You think you own all this land, this timber, this water and all these horses. You do not own one thing on earth, not even the air you breathe. It all belongs to the Great Spirit."
Martin (1802-1870) and Elizabeth Degen 
(1802-1878)
Bushman  
Dad's 2nd great-grandparents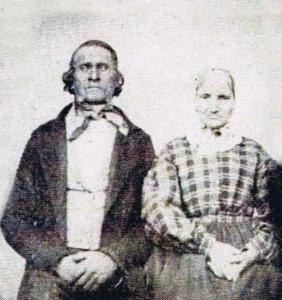 The Martin and Elizabeth Bushman family stayed behind to plant crops to help the Saints but were compelled to leave grain and crops in the field and everything they possessed except what they could take in one wagon.  They quickly departed in September 1846 due to mob violence. The rainy season just started and nearly all of the family took the chills and fever.  Elizabeth (almost 9) died 12 October 1846. A week later Hetty Barbra (11 months old) also died. They died along the trail and were buried along the trail.  The baby was buried wrapped in a blanket without a coffin.  Both girls died from exposure. 
In western Iowa, they settled in Highland Grove (500 miles from Nauvoo.) They built a log house and covered it with dirt. They had a dirt floor.  They lived there for 4 years.  They were out of provisions when they arrived in Iowa so Martin made several 100-mile trips into Missouri to work splitting rails.  After he earned some corn meal and pork, Jacob went and got it with their oxen team. They planted and grew crops in Iowa each year. In 1851, they finally accrued sufficient means to cross the plains to Utah.
Sidney Tanner (1809-1895)
Dad's 2nd great-grandfather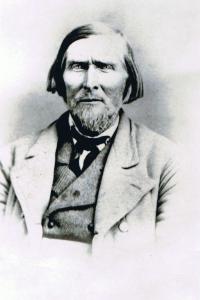 Sidney and his brother Nathan were in the Battle of Crooked River with David W. Patten, then settled in Montrose, Illinois, with his wife Louisa and five children. In the exodus from Nauvoo, Sidney's wife and the three youngest children died.
Despite his sorrow, he wrote an unwavering defense of his faith to his unbelieving parents-in-law. "In your letter you wanted to know what we wanted to move for. It was to go to a land of freedom, where we could enjoy the peace of society and our liberty." He related his wife's illness and death, then added: "She requested me to write to you and tell you that she died in the full triumph of the faith of Jesus Christ and her most desire for living was for the benefit of her family and friends and to do what she was afraid they would not do for themselves, that they might arrive to a glorious salvation in the kingdom of God, where she expects to meet them and enjoy their society."