We all find ourselves in life's crucibles—at the hand of others, as a part of life, or sometimes because of our own choices.  Those refining times in a fiery furnace reveal so much about who we are and can help us determine our spiritual trajectory.
Next to the Savior's atoning sacrifice, Shadrach, Meshach, and Abed-nego's crucible story is my all-time favorite. I imagine them standing in a huge throng before the 90-foot version of Nebuchadnezzar.  They'd gathered by order of the king with other "princes, the governors, and the captains, the judges, the treasurers, the counsellors, the sheriffs, and all the rulers of the provinces…"
I imagine their reactions as they heard the edict to kneel before the statue on the musical cue.  I see them look at each other, still determined to worship the one true God and Him only would they serve.  I hear the band play. I see thousands of Nebuchadnezzar's subjects kneel. Except for three.
These three, their demarcation suddenly obvious to their peers. They stood.
Were they the only Hebrews in the throng? I don't think so.
I hear echoes of the Lord's commands to Ezekiel:
Son of man, stand upon thy feet, and I will speak unto thee.

And the spirit entered into me when he spake unto me, and set me upon my feet, that I heard him that spake unto me.

And he said unto me, Son of man, I send thee to the children of Israel, to a rebellious nation that hath rebelled against me: they and their fathers have transgressed against me, even unto this very day.
Covenanting with the Lord caused Shadrach, Meshach, and Abednego to stand before Him.  And they did.
Do ye not serve my gods?
Enraged, Nebuchadnezzar asked the three, "Do not ye serve my gods, nor worship the golden image which I have set up? … if ye worship not, ye shall be cast the same hour into the midst of a burning fiery furnace; and who is that God that shall deliver you out of my hands?"
Their response is just about my favorite Old Testament response. I love their respectful refusal to bow down.  They knew God could deliver them, "but if not," even if He didn't save them from the physical fire like in Abinadi's circumstance, they would not bow down to a false god.
If it be so, our God whom we serve is able to deliver us from the burning fiery furnace, and he will deliver us out of thine hand, O king.

But if not, be it known unto thee, O king, that we will not serve thy gods, nor worship the golden image which thou hast set up.
Nebuchadnezzar commanded them to be thrown into the fiery furnace.  Instead of being destroyed, the Lord preserved Shadrach, Meshach, and Abed-nego. To me, this story is so much more than just being preserved. For me, I see the promise fulfilled to have the Savior as Comforter and companion after a baptism by fire.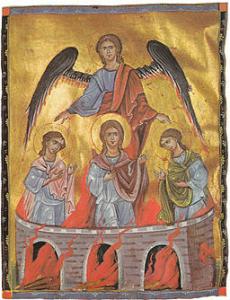 Worship me
I can't help but think of another man who withstood the demands to worship a god of this world.
Satan came tempting him, saying: Moses, son of man, worship me.

And it came to pass that Moses looked upon Satan and said: Who art thou? For behold, I am a son of God, in the similitude of his Only Begotten; and where is thy glory, that I should worship thee?

Get thee hence, Satan; deceive me not; for God said unto me: Thou art after the similitude of mine Only Begotten.

And he also gave me commandments when he called unto me out of the burning bush, saying: Call upon God in the name of mine Only Begotten, and worship me.

And again Moses said: I will not cease to call upon God, I have other things to inquire of him: for his glory has been upon me, wherefore I can judge between him and thee. Depart hence, Satan.

And now, when Moses had said these words, Satan cried with a loud voice, and ranted upon the earth, and commanded, saying: I am the Only Begotten, worship me.

And it came to pass that Moses began to fear exceedingly; and as he began to fear, he saw the bitterness of hell. Nevertheless, calling upon God, he received strength, and he commanded, saying: Depart from me, Satan, for this one God only will I worship, which is the God of glory.

And now Satan began to tremble, and the earth shook; and Moses received strength, and called upon God, saying: In the name of the Only Begotten, depart hence, Satan.

And it came to pass that Satan cried with a loud voice, with weeping, and wailing, and gnashing of teeth; and he departed hence, even from the presence of Moses, that he beheld him not.

And it came to pass that when Satan had departed from the presence of Moses, that Moses lifted up his eyes unto heaven, being filled with the Holy Ghost, which beareth record of the Father and the Son;

And calling upon the name of God, he beheld his glory again, for it was upon him; and he heard a voice, saying: Blessed art thou, Moses, for I, the Almighty, have chosen thee, and thou shalt be made stronger than many waters; for they shall obey thy command as if thou wert God.

And lo, I am with thee, even unto the end of thy days; for thou shalt deliver my people from bondage, even Israel my chosen.
Worship the Lord thy God, and Him only shalt thou serve
Does this even relate to us today?
The Savior's rebuttal to Satan on the Mount of Temptations also persistently applies to us.
Thou shalt worship the Lord thy God, and him only shalt thou serve.
Among other things, Lehi's dream of the Tree of Life metaphorically depicts the human struggle to worship the Lord our God.  Some people pressed forward to the Tree.  Some went straight to the great and spacious building, then spent their time mocking those at the Tree. Some people made it to the Tree and then felt ashamed because of the scoffing. So many different scenarios played out in that dream, ultimately identifying who would worship the Lord their God and serve Him only.
To love God is all-consuming and all-encompassing
President Ezra Taft Benson taught that
To love God with all your heart, soul, mind, and strength is all-consuming and all-encompassing. It is no lukewarm endeavor. It is total commitment of our very being—physically, mentally, emotionally, and spiritually—to a love of the Lord.

The breadth, depth, and height of this love of God extend into every facet of one's life. Our desires, be they spiritual or temporal, should be rooted in a love of the Lord. . . .

We must put God in the forefront of everything else in our lives. He must come first, just as He declares in the first of His Ten Commandments: "Thou shalt have no other gods before me" (Exodus 20:3).

When we put God first, all other things fall into their proper place or drop out of our lives. Our love of the Lord will govern the claims for our affection, the demands on our time, the interests we pursue, and the order of our priorities.
Blessed be the God…[that] delivered His servants that trusted in Him
After seeing a fourth person walking with Shadrach, Meshach, and Abed-nego,
Nebuchadnezzar came near to the mouth of the burning fiery furnace, and spake, and said, Shadrach, Meshach, and Abed-nego, ye servants of the most high God, come forth, and come hither. Then Shadrach, Meshach, and Abed-nego, came forth of the midst of the fire. . . .

Then Nebuchadnezzar spake, and said, Blessed be the God of Shadrach, Meshach, and Abed-nego, who hath sent his angel, and delivered his servants that trusted in him, and have changed the king's word, and yielded their bodies, that they might not serve nor worship any god, except their own God.
He will stand with us in our crucibles
One of my friend's crucibles drew me to God like that.  I saw how God sent His angel to her and delivered her when she yielded her mind and spirit to Him.  She'd married a brilliant professor.  He wrote significant textbooks used all over the country.  Academia regarded him highly and his output warranted the honors.
He had a mental illness that he numbed through drug abuse and alcoholism.  He became a highly functioning addict. Until he wasn't. His addictions spiraled. Repeatedly my friend prayed that the Lord would help her locate her husband. He led her to various crack houses or forested areas around town where she'd find her beloved.
I met her in the midst of this crucible. She taught me about unconditional love.  I saw her pain and her love.  She never belittled or degraded her spouse, just spoke matter-of-factly, when I asked, of just getting home because she'd been sifting through a crack house looking for him.  She matter-of-factly faced really scary situations because she knew the Lord would guide and protect her.
There came a time when the Lord guided her to divorce her husband so she could survive financially.  The millions were gone.  Comparatively, she had almost nothing left though she had an amazing job because she is a brilliant mind herself. Her husband continued to spiral. Though divorced, she was still present for him, she loved who she knew he really was, and finally, she identified his body when he took his life in another state.
This tiny summary does nothing to convey the fire she stood in. No other human could comprehend the scorching flames in her fiery furnace. We tried, but could absolutely not comprehend what she experienced.  Through it all, she did not become defeated, bitter, blaming, resentful, addicted, or distracted from her purpose as a woman of God. She stood in her strength and in her faith.  She did not look to lesser gods for comfort, or permission, or deliverance.
She found someone else in her fire.  She clung to Him.  She followed His every command.  She survived.
Her steadfast commitment to unconditional love and faith while maintaining such strong boundaries is something I've rarely seen.  She showed me what is possible with the Lord's help.
And I say,
Blessed be the God of [my wise and faithful friend,] who hath sent his angel, and delivered his servant that trusted in him, and have changed [Delisa's ideas of what is possible through Jesus Christ,] and yielded [her body,] that [she] might not serve nor worship any god, except [her] own God.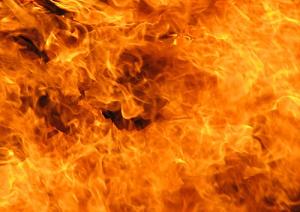 Truly the fiery furnace reveals if we will be burned or purified.  I'm so grateful for Shadrach, Meshach, and Abed-nego, my friend, and many others, who show that it is possible to stand in the fire, to commune with God in the fire, and to be purified by that same fire.