The tiny little creation museum in Strafford, Missouri was inundated with evil heathens Friday afternoon as the hordes from Skepticon descended on the place. I imagine the people who run the place gathering this morning for an extra prayer session, asking God to convert us all. Didn't happen. Here's the sign out front: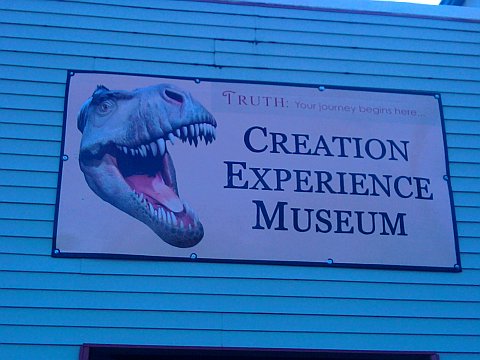 To be honest, it was pretty disappointing. It was literally one room with a few fossil casts strewn around and lots of creationist books and DVDs on sale. Here are some of the books: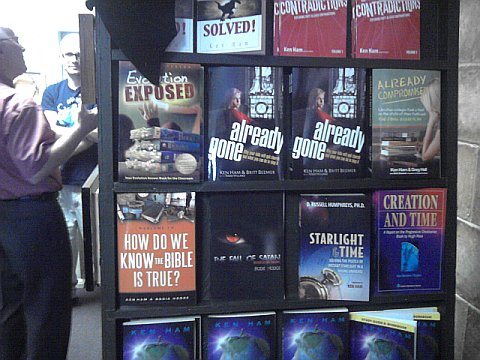 And here's an age-old lie about the coelecanth cribbed from creationist pamphlets: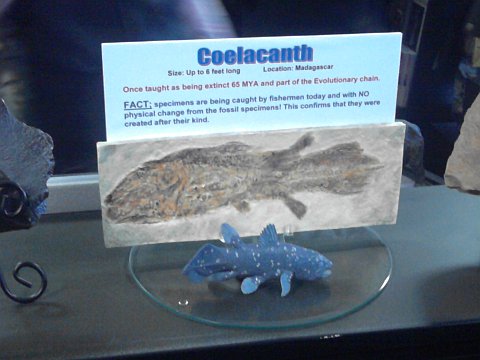 Having a good time so far. Got to meet Les Lane, a guy I've been interacting with online for well over 10 years and never met in person. PZ is lurking around and I heard Jen McCreight and Greta Christina are here but I haven't seen them yet. Debbie Goddard is making the rounds. And there's supposed to be a performance by Jamie Kilstein, but it's not on the schedule on the Skepticon website.
I've gotten a ton of comments from people who love FTB, and a few complaints that by putting all these great blogs together it's pretty much eliminating their productivity at work. But we can't help that we're awesome.