The New York Times has an amazing graph that clearly disproves the notion that low corporate taxes and high corporate profits will create unprecedented economic growth and millions of new jobs. Corporate profits are at an all time high even while wages and business taxes have gone down and unemployment has soared. Here's the graph: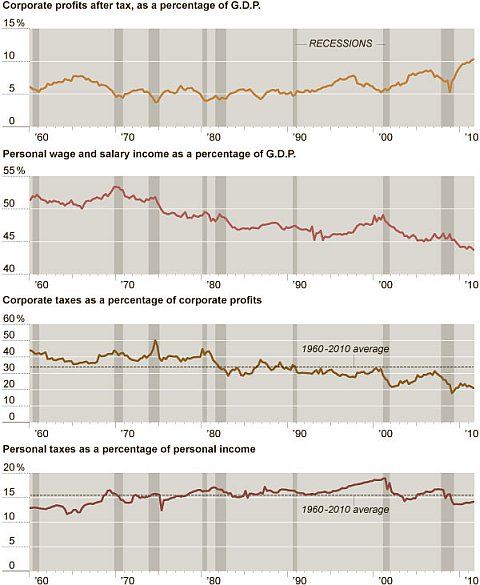 Some key things to notice. Corporate after tax profits have literally doubled over the last 10 years and the last 50 years as well. Wages have fallen both long term and short term. Corporate taxes as a percentage of profits has dropped in half since 1960. Personal taxes as a percentage of personal income has remained almost exactly the same. And though this is not included in that graph, corporate taxes as a percentage of federal revenue has dropped from more than 30 percent 50 years ago to less than 10 percent now.
Corporate profits after taxes were estimated to be $1.56 trillion, at an annual rate, during the quarter, or 10.3 percent of the size of the economy, up from 10.1 percent in the second quarter. Until 2010, the government had never reported even a single quarter in which the corporate share was as high as 9 percent, as can be seen in the accompanying charts.
We are continually told by the right that lower corporate taxes will unleash an economic boom and solve the unemployment problem. Yet corporate profits have never been higher than they are now, and in fact they have nearly doubled in the last three years as we have suffered through the worst recession since the Great Depression. If there's a connection between corporate profits and unemployment, it seems to be an inverse correlation.
Profit is not a bad thing. We should want companies to be profitable. A company that has no profits isn't going to employ anyone, for obvious reasons. But even at a time of record profits, corporations continue to spend massive amounts of money to buy politicians to lower their taxes even further, even when their taxes are already at all time lows. And more than one Republican presidential candidate has suggested, quite seriously, that all corporate taxes should be eliminated. This is simply perverse.