The Muslim barbarians in Saudi Arabia aren't the only ones murdering people accused of "witchcraft." Pentecostals in Nigeria do it too. In fact, there's a new and popular church in that country holding events explicitly advocating that witches be killed. Leo Igwe reports:
The potentially dangerous activities of a new local church in Cross River-Akwa Ibom states axis of the country should be of concern to all people of conscience in Nigeria and beyond. This church, which habitually starts the themes of its crusade with "My Father! My Father!!…"appears to be on a fast track to causing a new wave of witchcraft related abuse, torture and killings in the region.

This church is owned and led by a boyish upstart pastor who addresses himself as 'God's Prophet' and as 'Prophet of signs and wonders'. It is not clear when and how he came about these titles, but like others in the business of penticostalism, these appellations have become the trade mark of this evangelical entrepreneur. From an apartment in Calabar, Cross River State, where it started, the church has grown so rich that it now organizes its meetings in some of the most expensive hotels in the region. But the issue is not whether this 'My Father Church' holds its events in cheap or expensive venues but what these programs are all about.

Recently, the prophetic ministry joined the vanguard of witch hunting churches that are fueling witchcraft related abuse in the region.

In what appears to be a clear and targeted attempt to undermine the progress which government and non-governmental agencies have made in the fight against witch hunting in Akwa Ibom, the church organized in March a crusade tagged 'Uyo Festival of Fire' at Ibom Hall in Uyo, the state capital. The theme of the crusade was 'My Father! My Father!! That Witch Must Die'.
Here's a billboard for that crusade, courtesy of Igwe: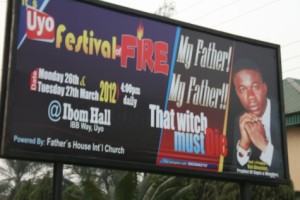 It's just sickening that this still goes on in the world. Absolutely sickening.