Rex Nutting of MarketWatch, which is owned by the Wall Street Journal and Rupert Murdoch, shows that growth in federal spending under President Obama has been considerably lower than under Bush. In fact, the growth in federal spending under Obama and Clinton has been far lower than it was under every Republican president since Reagan.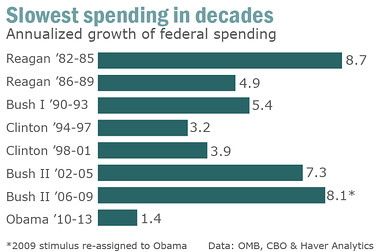 He writes:
Almost everyone believes that Obama has presided over a massive increase in federal spending, an "inferno" of spending that threatens our jobs, our businesses and our children's future. Even Democrats seem to think it's true.

But it didn't happen. Although there was a big stimulus bill under Obama, federal spending is rising at the slowest pace since Dwight Eisenhower brought the Korean War to an end in the 1950s.

Even hapless Herbert Hoover managed to increase spending more than Obama has.

Here are the facts, according to the official government statistics:

• In the 2009 fiscal year — the last of George W. Bush's presidency — federal spending rose by 17.9% from $2.98 trillion to $3.52 trillion. Check the official numbers at the Office of Management and Budget.

• In fiscal 2010 — the first budget under Obama — spending fell 1.8% to $3.46 trillion.

• In fiscal 2011, spending rose 4.3% to $3.60 trillion.

• In fiscal 2012, spending is set to rise 0.7% to $3.63 trillion, according to the Congressional Budget Office's estimate of the budget that was agreed to last August.

• Finally in fiscal 2013 — the final budget of Obama's term — spending is scheduled to fall 1.3% to $3.58 trillion. Read the CBO's latest budget outlook.

Over Obama's four budget years, federal spending is on track to rise from $3.52 trillion to $3.58 trillion, an annualized increase of just 0.4%.
It should be absolutely clear by now that the Democrats are far more fiscally responsible than the Republicans. It's not even close. And as Andrew Sullivan points out, Romney has promised to cut taxes even more and increase defense spending, which will send the debt soaring even more. The Republicans talk endlessly about fiscal responsibility, but it should be obvious that it is nothing more than a meaningless catchphrase.