Now that I'm almost kinda semi-recovered from a very long weekend at Skepticon sandwiched between a pair of 13-hour drives, I thought I'd write up a brief report on the whole thing. The tl:dr version: An awesome time was had, by me most of all.
The first thing that made it great was that my best friend Rick came along. We've been best friends for nearly 30 years, since we were in high school. Though he's a non-believer himself, he's never had any involvement in the movement and I doubt he ever will. It's just not something he pays much attention to. Hell, he doesn't even read my blog all that much. But it was a rare opportunity for us to spend a big chunk of time together for the first time in a very long time, and we had a blast. Lots and lots of great conversation on the way there and back.
The second thing that made it great was that JT Eberhard finally had to pay off the bet we made on the outcome of a poker tournament in July, requiring him to wear a t-shirt that said "Ed Brayton is a poker god." Never one to be accused of being a good sport, I extracted maximum humiliation from it all and poured a little salt in the wound with this nametag: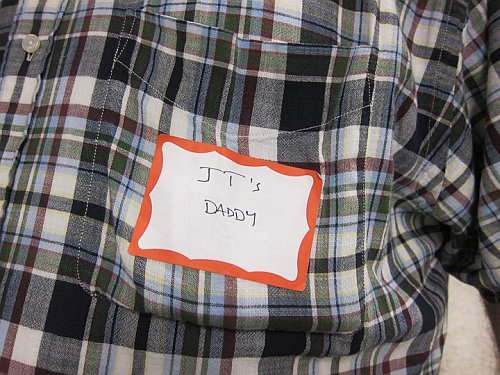 I'm not going to tell you what he said when he saw it. I actually had one person say, "Oh, you're JT's dad?" Only metaphorically. But I was happy that his delightful girlfriend Michaelyn decided to help me out in these efforts by drawing as much attention to the shirt as possible, even while JT sulked: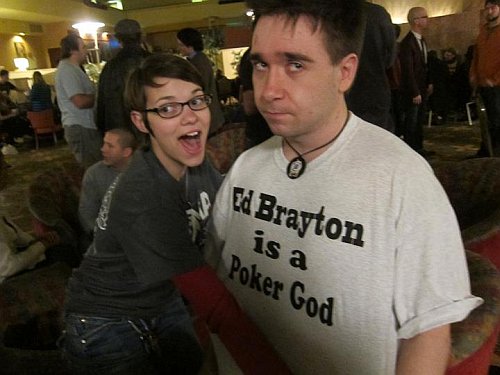 In reality, though, I don't think anything was really going to hurt JT's mood because he may be the luckiest guy I know. On Friday night, he popped the question to Michaelyn on stage in front of the entire conference. There was hardly a dry eye in the place. It's a good thing she said yes! Here she is going up on stage to kiss him, in utter shock: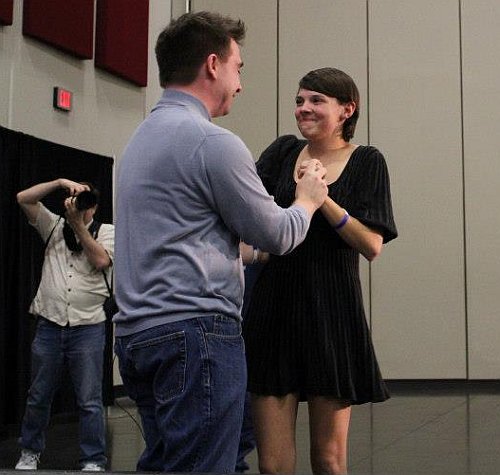 The truth is that she may have been the only one in the place who didn't know he was going to do this, but we all managed to keep quiet about it. And I'm glad we did. Her reaction was priceless, as was having the opportunity to be there for it. JT has become a really good friend and I couldn't be happier for him. Thanks for being such a good sport, JT, and for letting us all be a part of your joy.
Speaking of joy, the third reason Skepticon was so great was that I finally got to meet an old online friend in person. You know her as the person who comments here as Gretchen (which is convenient, since that is, in fact, her name). Here we are together: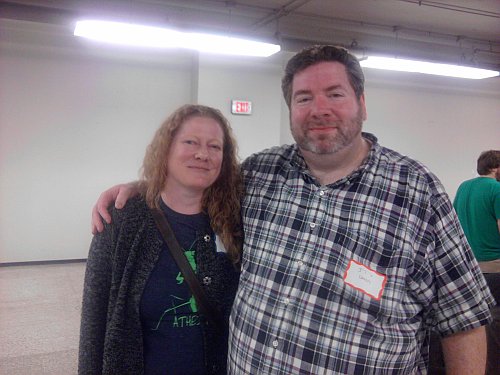 We have known each other for nearly 15 years, through more than a few ups and downs for both of us, but never had the chance to meet in person. And again, we had much fun and great conversation. I met a lot of people this weekend that I had only known online before, but this was different. This isn't just a fellow activist I've read or someone I've exchanged an email or two with, this is someone I genuinely care about. I can't tell you how great it was to finally get the chance to meet.
And we got to share a laugh over this shirt: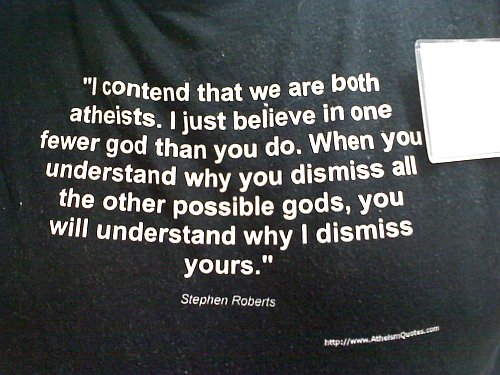 It's a great quote and it's seen quite often at atheist gatherings. And I've asked people many times if they know who Stephen Roberts is and they never do. But Gretchen and I do. Stephen Roberts is the real name of a guy we used to hang out with on IRC in the late 90s. He used the nickname wubwub and he was into two things: legos and boobs. And while no one else knows who he is, he did come up with one of the most commonly quoted lines in all of atheism.
Oh, did I mention the conference itself? Probably not. The truth is I didn't get to see much of it. I was busy manning the FTB table. But conferences, for me, are really about the people. I got to see and hug and talk to so many great people that I wish I could see more often, including PZ, Debbie Goddard, Jesse Galef, Steven Olsen, Jen McCreight, Rebecca Watson, Amy Roth, Andrew Tripp, James Croft and many others. And I got to meet a lot of people for the first time that I had only admired from afar, like Ashley Paramore, Kate Donovan and Phil Ferguson.
Oh, and JT's awesome parents. I'd been dying to meet them and I finally did. And yes, one of these days I'm going to go to Arkansas to visit and play some poker with them.
So yeah, I had an amazing, incredible, awesome weekend filled with good friends and much laughter. Wish you could have been there too.