Remember how the Tea Party movement swept Republicans into office and gave them control of the U.S. House and most state legislatures in 2010? Remember how all the talk was about spending and debt and taxes? The minute they took office, however, it was largely about taking control of their own reproduction away from women. The Guttmacher Institute makes that clear in this chart: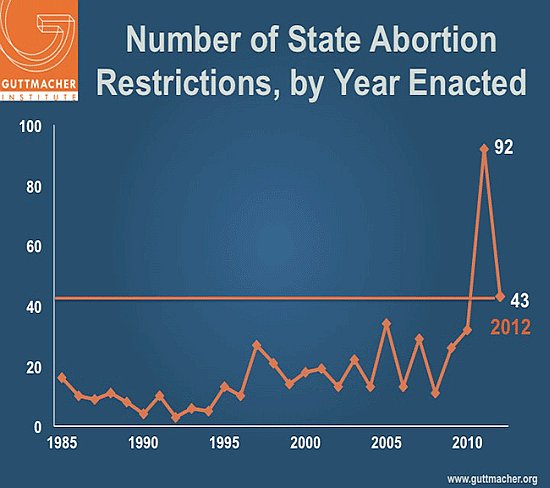 And the report says:
Reproductive health and rights was once again the subject of extensive debate in state capitols in 2012. Over the course of the year, 42 states and the District of Columbia enacted 122 provisions related to reproductive health and rights. One-third of these new provisions, 43 in 19 states, sought to restrict access to abortion services. Although this is a sharp decrease from the record-breaking 92 abortion restrictions enacted in 2011, it is the second highest annual number of new abortion restrictions.
Meet the Tea Party: Same as the old religious right. I don't think it was always that way. I think in the very early days of the Tea Party movement, there was a core of real libertarians rather than social conservatives. But that movement was quickly taken over by theocons, Republican operatives and big spending conservative billionaires.