Reading this post by Jim Hoft at Gateway Pundit leaves me scratching my head. He uses a famously faked picture of John Kerry and Jane Fonda, which is bad enough, but the real question is, why? The picture has absolutely nothing to do with the article he links to, which is about America's outdated highway system. Here's the picture: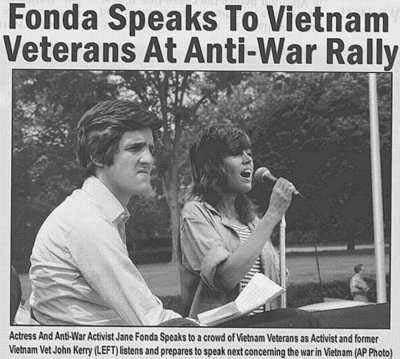 And the Snopes article about it, which shows the original images that were merged for the fake result. But again, the question is why? The article he links to and quotes is about baby boomers supposedly sticking younger generations with the bill for an aging transportation infrastructure that needs to be updated. And it concludes with this question:
Are the boomers just incompetent narcissists, or are they the worst generation in American history?
But neither Fonda nor Kerry are baby boomers. Both were born before the end of World War 2 (and Fonda before it even started). And even if they were baby boomers, using that picture would make no sense at all. Does he think that our crumbling infrastructure is due to Vietnam War protests? WTF?