As you may have heard by now, Camp Quest Oklahoma was thrown out of a fundraiser that they had arranged at a BBQ joint called Oklahoma Joe's. Dave Muscato, PR Director for American Atheists, spoke to the organizers of the event and has the details in that Reddit thread:
Around Dec/Jan, they approached Joe's about doing a fundraiser. Her husband's cousin is a manager there. She and her husband (I assume this is Joseph Eversole whom Joe Davidson mentioned) had lunch with him, told him all about the camp. He said that sounds like fun, and said that Joe and Paige (the owners of the restaurant) would probably like to do something. They asked for more info.

They went back and talked to the owner, Paige Davidson. They told her what the camp did, how they promote it, that CQ-OK is a science & education camp for children 8-17, used the words "secular humanist," said they do not discriminate, said they are specifically a science camp, they do not promote religion, they do not promote atheism, they do not indoctrinate kids; they are solely about science.

They were asked, "Are you religious?" She answered, "I used to be," said she was trying to find a camp in the Bible Belt that doesn't focus on religion and that's how she got involved with Camp Quest.

They said, give us some info and we'll see what we can do. She gave them a letter that she gives to all donors with info about CQ, their 501(c)(3) status, her business card, etc. From my understanding it is clear from this information that they are a secular, non-religious organization.

They were put on the calendar. For 2-3 weeks now, they have been distributing flyers. The flyers include a blurb that includes the word "freethinker" and humanist. The flyer was approved by the restaurant. They had a table set up, a computer for a slideshow, brochures, stickers, etc. They ate dinner, and within an hour, Joe (the owner) came up to them and said "We need to talk."

Her husband, Joseph, went outside with Joe the owner. She said, "This is not good; they're going to ask us to leave."

They were outside for about 20 minutes and her husband came back and said, "We have to leave; they've asked us to leave."
Oklahoma Joe's admits that this was pure discrimination on the basis of the group's atheism, posting this sign at the restaurant: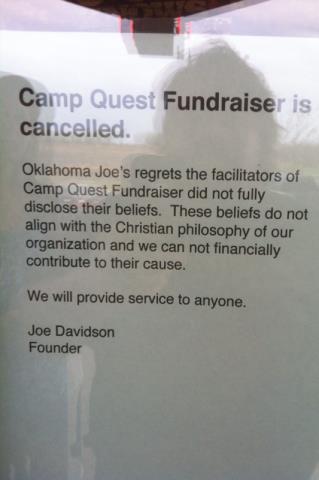 A lawsuit should be filed immediately. This is very similar to what happened to us at CFI Michigan in late 2011 when a country club canceled a dinner with Richard Dawkins. The fact is that it does not matter whether the group was clear about their atheism or not, it is a violation of federal law and Oklahoma state law as well. Federal law says:
All persons shall be entitled to be free, at any establishment or place, from discrimination or segregation of any kind on the ground of race, color, religion, or national origin, if such discrimination or segregation is or purports to be required by any law, statute, ordinance, regulation, rule, or order of a State or any agency or political subdivision thereof.
Any business that offers public accommodation (that is, if they're open to the public) cannot discriminate on the basis of religion, and that includes discrimination against atheists. The country club that discriminated against CFI Michigan just settled that suit, which they were likely to lose if they went to trial.
What Oklahoma Joe's did is illegal. They need to be held accountable for it.