Mark Kessler, the deranged extremist who is police chief of Gilberton, Pennsylvania for another few days at least, is anticipating being fired and has launched a write-in campaign for himself on the November ballot to be the sheriff of Schuylkill County. His Facebook page, which is really, really scary, makes the announcement:
we need a lot of volunteers, people who are willing to work polling stations all over Schuylkill county, November 5th, to assist in asking voters to write in MARK KESSLER for Schuylkill county SHERIFF,

This wont be easy, a write in campaign in almost impossible, but we hope all true patriots will come assist and turn the tide of this thuggery machine that has been destroying our constitution for decades & decades,

PLEASE HELP ELECT MARK KESSLER FOR SCHUYLKILL COUNTY SHERIFF NOVEMBER 5TH 2013
And Kessler adds his own brand of pseudo-macho idiocy:
when your back is against the wall, when the odds are almost impossible to overcome, that my friends is when we the people finally stand up and say , ENOUGH! so all I can say is this!, BRING IT YOU PACK OF SCUM SUCKING SHIT BAG POLITICIANS, i'm not politically correct , damn proud of that I must say! I don't come with a smile and a bag of bullshit every four or two years, NEVER HAVE NEVER WILL!, I don't need to suck the so called elected elites ass cracks to run for anything, or get the stamp of approval from the so called elected elites! I'm an AMERICAN, nothing more nothing less, I love my country, I honor our military who honor their oath, I honor all American Patriots, and all those who shed their blood of gave the ultimate sacrifice defending freedom whether on the field of battle or not! as for you scum sucking politicians from the left & right, WE THE AMERICAN PEOPLE ARE COMING AND YES WE ARE PISSED OFF! so NOVEMBER 5TH 2013 WRITE IN MARK KESSLER FOR SCHUYLKILL COUNTY SHERIFF, one true american patriot! and lets give this CURRENT thuggery regime here in Schuylkill county & across the nation THE BOOT!
Such a brave hero. And I know this is rude and all, but when I see this picture of Kessler and his followers: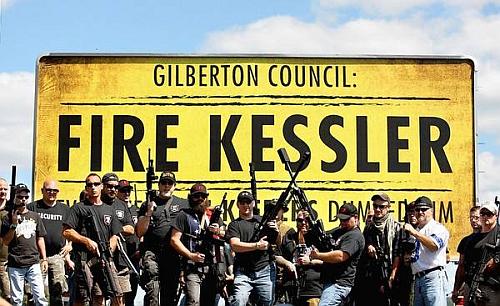 I want to say the same thing to them that I want to say to men who drive Hummers: Sorry 'bout your penis.