I suppose I should be accustomed to being routinely appalled by the thinking and behavior of law enforcement officials by now, but I find myself in a bit of shock over statements from Ruben Santiago, the Interim Police Chief in Columbia, South Carolina, on the agency's Facebook page. After taking criticism for a big pot bust, Santiago had this exchange with an advocate of legalization: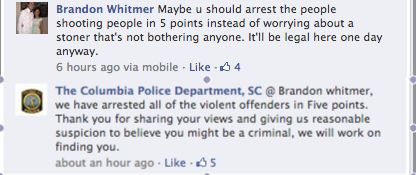 So the Columbia police department thinks that advocating for the legalization of marijuana constitutes "reasonable suspicion" and they promise to "work on finding" the person who advocates it. The comment was deleted by someone in the department, presumably someone who at least recognized how unwise it was to say such things publicly, even if they didn't care about the actual ethics and reasoning. But Santiago decided to double down: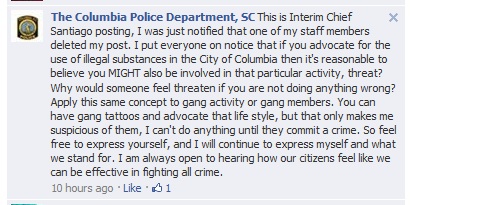 ThinkProgress
points out the obvious
:
Setting aside the obvious First Amendment problems raised by a police chief saying that his department will "work on finding" someone for doing nothing more than expressing a political viewpoint, Santiago is wrong to suspect that a person who openly disagrees with his views about marijuana policy is engaged in illicit drug use. Though a recent Gallup poll found that 58 percent of Americans support legalizing marijuana, a different poll found that just 12 percent of the public actually used marijuana within the last year. So even assuming that every single person who smokes marijuana also believes that it should be legal, nearly four out of five people who support legalization are not marijuana users.
Santiago should be fired immediately.