A few months ago, the Air Force Academy decided to allow officer candidates to omit the phrase "so help me God" from their oaths upon graduation. That set off a typhoon of dishonesty and demagoguery that has yet to subside. A huge coalition of Christian right groups put up this billboard near the campus of the academy: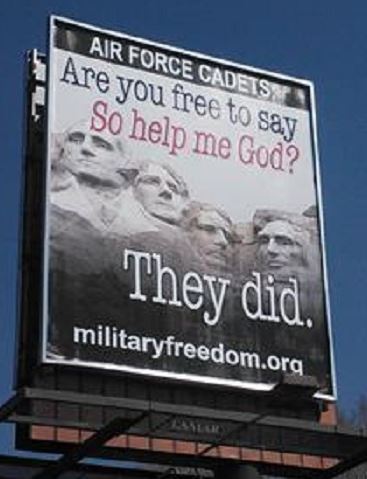 The answer is obvious: Yes, they are free to say "so help me God." The academy didn't ban it, they made it optional. I have no doubt that the overwhelming majority of those taking the oath will include it. No one is preventing them from doing so. They aren't fighting for their right to say it, they're fighting against everyone else's right not to say it. Seriously, do they ever stop lying? Ever?
Here's a list of all the group involved in putting up this billboard: American Family Association, American Values, Alliance Defending Freedom, Center for Military Readiness, Center for Security Policy, Chaplain Alliance for Religious Liberty, Concerned women for America, Family Research Council, Family PAC Federal, Freedom Alliance, Freedom X, Heritage Foundation, International Conference of Evangelical Chaplain Endorsers, Judicial Watch, Liberty Center for Law and Policy, Liberty Counsel, Liberty Institute, Media Research Center, Military-Veterans Advocacy, Ohio Faith and Freedom Coalition, Patriotic Veterans, Stand Up America, Thomas More Law Center, The Oak Initiative and Traditional Values Coalition. Every one of them is complicit in telling an absolutely ridiculous lie.
My friends at the Military Religious Freedom Foundation quickly put up this billboard in response: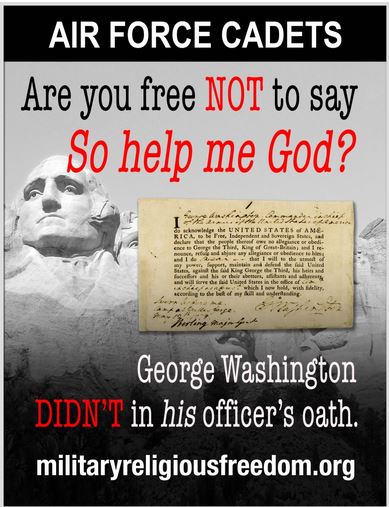 Honest and accurate.