British skeptic Mark Tilbrook is being threatened by "psychic" Sally Morgan, who claims that a flier Tilbrook handed out at her shows urging people to think rationally about what they see amounts to libel and defamation. Here's the flier that was handed out: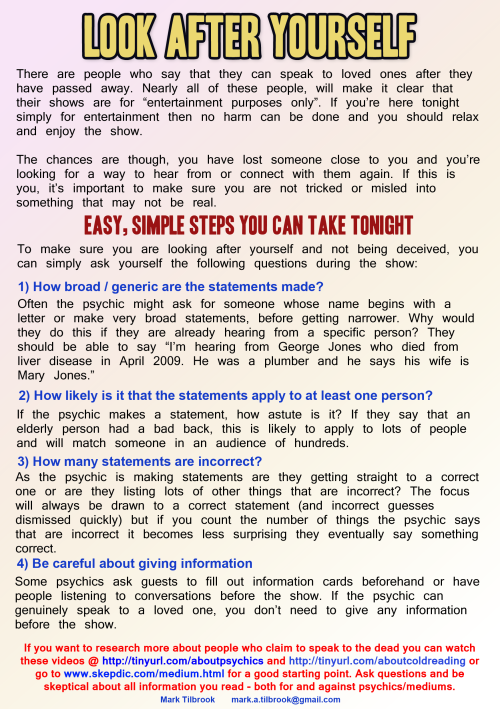 There's nothing remotely defamatory, even under the appallingly broad British legal standards for such. Tilbrook says he's not backing down:
Earlier this year I found myself standing outside a major theatre, on the receiving end of a tirade of abuse from John Morgan – the husband and manager of TV psychic Sally Morgan. John threatened me with violence, told me that I would be "lifted" and "disappear" – he told me he even knew where I worked.

What had I done to deserve this fate? I had merely tried to encourage people to think about whether psychics really can speak to the dead…

Shortly afterwards, I received a letter from Sally Morgan's solicitor, Graham Atkins, informing me that she intended to sue me for libel. The letter claimed that my leaflet contained numerous defamatory allegations about Sally Morgan, and demanded an undisclosed sum of money in compensation – plus nearly £2,000 in legal fees. So far I had been mostly on my own with some help from local skeptics, but at this point I realised that I needed some serious professional backing.

After talking to the science writer Simon Singh, my plight was brought to the attention of Robert Dougans at Bryan Cave – the same solicitor who had successfully defended Singh when he was sued by the British Chiropractic Association. Simon and his organisation the Good Thinking Society have since been supporting me with my efforts, which is something of a relief when faced with threats of financial ruin and violence…

With the legal threats hanging over me and the worries about physical threats, it has been a difficult few months, but it will have been worth it if it has helped even a few question the information they get from psychics. I won't pretend there haven't been a few sleepless nights, but it has made me more determined to hand out more leaflets, regardless of the threats made towards me.
Good. These frauds are preying on the credulous and should be exposed.