Glenn Beck is making a movie about Santa Claus being a badass warrior who protects the baby Jesus from harm and now a Washington, DC gun lobbyist has apparently turned that into inspiration for a Christmas card featuring Santa killing a Muslim terrorist with a gun.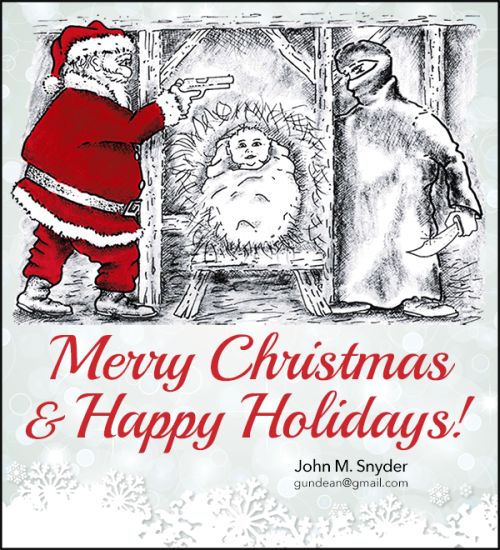 From the press release:
An armed Santa Claus on an original Christmas card sent to recipients this year by John M. Snyder protects Baby Jesus from a masked, knife-wielding terrorist.

Santa aims a semiautomatic handgun at the terrorist near Baby Jesus in His crib. The contemporary drawing shows Santa Claus using the gun to save the Infant from the throat-cutter.

"The Christmas card reflects current reality," Snyder said. "According to numerous news reports, Islamist terrorists behead innocent victims around the world, even here in the United States. These murderers persecute Christians, especially Catholics, who worship Jesus Christ as the Son of God, the Second Person of the Blessed Trinity.

"At Christmas, we commemorate the coming of Jesus Christ as true God and true Man, the Divine Person who assumed our human nature through his mother Mary."

Snyder added that, "Santa Claus for many represents the Christmas spirit, the spirit of giving. On this message, Santa uses force of arms to rescue Baby Jesus from a terrorist, to give the Infant protection and freedom from the terrorist. Governments and other entities worthy of respect appreciate the right and ability of individuals to use firearms to protect the innocent."
It's probably important to note that this is not a parody. He's serious.