My friend Mikey Weinstein writes about an outrageous poster being used by the Army to recruit members for the special forces, telling them that they would be "on a mission for God and country." Here's a picture of the poster being used outside an Army recruiting station: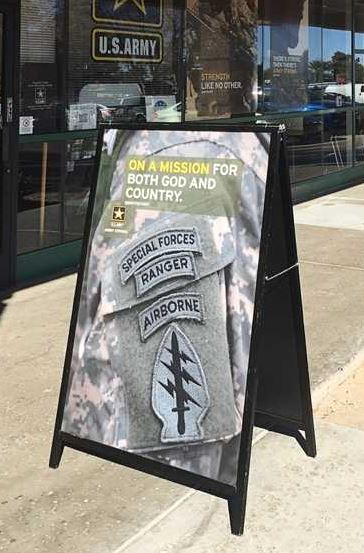 Mikey writes:
There it was; an in-your-face, proselytizing, U.S. Army officially-approved (goarmy.com) recruiting poster on prominent display at an Armed Forces Career Center in Phoenix, Arizona. That outrageously ghastly graphic encapsulates precisely that which we've been ceaselessly calling the attention of the American people to for all this time. The poster astoundingly displays the shoulder tabs of the U.S. Special Forces (i.e. Green Berets), Rangers and Airborne troopers accompanied by the seethingly sectarian slogan "ON A MISSION FOR BOTH GOD AND COUNTRY."

(Wait a damn minute. Phoenix? Arizona? Army Special Forces? "Mission For……God"? My first thoughts were of Pat Tillman.)

Excuse me? "GOD and country?" Ahem, well, just WHOSE "god" might that be, U.S. Army?…

Even the Pope himself has decried on multiple occasions the reprehensible, medieval idea that one can kill in God's name – even going so far as to say that the concept, "simply, is blasphemy". Yet here we have the most lethal killing machine devised in the history of humankind proudly extolling the virtue of what can only be described as "Holy Wars."

This unconstitutional catastrophe comes at a time, no less, when world leaders as diverse as Mahmoud Abbas and Benjamin Netanyahu are marching together, arm in arm, in Paris and uniting behind the values of secular respect, religious tolerance, freedom of the press and all related basic civil rights. However, this incomprehensibly STUPID, and brazenly sectarian poster of American religious dominance at Marine Corps Recruiting Substation Paradise Valley universally destroys any credibility that the United States government is wholly devoted to these very basic democratic and human values.

Get this U.S. Army and get it well: The United States armed forces may surely fight and kill "for Country" and our legitimate national security interests. But our troops do NOT fight and kill for ANYONE'S "God" or related supernatural deity. In the preparation of this Op Ed, I exposed a number of senior active duty U.S. military leaders to the photo of this poster, including several active duty chaplains. To a man and woman, they were collectively ALL aghast that it was actually real and being used to lure young Americans into the Army's special forces.
I just have to wonder who the hell approved that sign. Whoever it is should be demoted immediately and removed from any decision making authority.