Phillip Cohen, a sociologist from the University of Maryland, reports on a sex ed class in Columbus, Ohio teaching some seriously sexist stereotypes about men and women. It's like something out of a textbook from the 1950s, but it's still in use today. Here's a handout used in the class: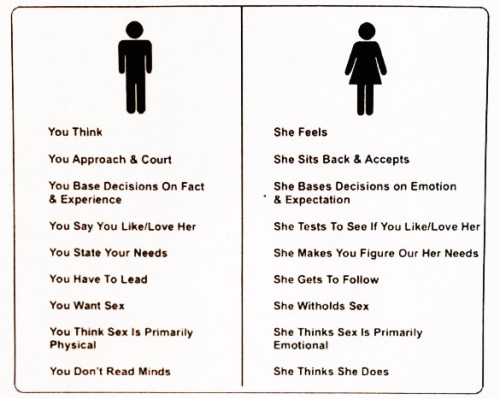 Cohen writes:
Yes, boys and girls in the class all got the same handout, with the normal human described as "you" and the one in the dress labeled "she." After the graphic is a list of questions for the students to ponder in an essay, such as, "How might knowing these differences influence and impact an intimate relationship you might currently have or develop in the future?"

In her defense, the teacher naturally told the Dispatch that the point was to just "stimulate conversation." But nothing in the assignment suggests the stereotypes might not be anything but true. None of the essay questions cast doubt on the facts presented.
There aren't enough heads or desks for this one.