A new survey of Republican primary voters by Public Policy Polling contains a rather disturbing result. When asked if they would support or oppose "establishing Christianity as the national religion," a staggering 57% said yes, 30% said no and 13% said they weren't sure.

Note also that the number varies depending on which potential presidential candidate they support. Huckabee supporters want America officially named a Christian nation by an incredible 94%. The only candidate whose supporters do not support it is Scott Walker. Two more interesting results: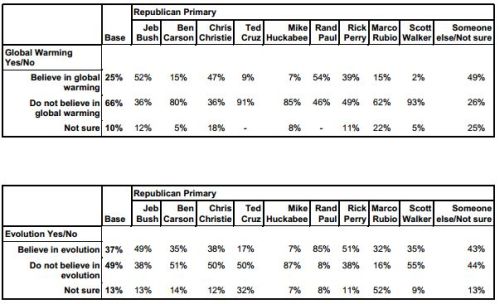 Again, not the difference. Supporters of Ted Cruz and Mike Huckabee are the most scientifically ignorant.
One word of caution: This survey has a very small sample size, only 316 people. That does raise the margin of error. I'd feel more comfortable citing this if the sample size were at least twice that much.