The Conservative Tribune predictably throws a hypocritical fit over the White House dinner honoring Nowruz, the Persian new year holiday celebrated throughout Central Asia, hosted by First Lady Michelle Obama. That horrible act has proven her unfit to be the First Lady, as you can well imagine.
Michelle Obama, the first lady of the United States, has proven through her actions and statements numerous times that she simply doesn't live up to the level of class of others who have held the same position.

Last week, the first lady hosted a celebration in the White House, honoring Iran by celebrating the Persian holiday of Nowruz, which represents their new year…

Regardless of her motives, she hosted the celebration nonetheless, entertaining her guests with a Persian dance group and a lavish dinner, no doubt of higher quality than the stuff she is forcing schoolchildren across America to eat for lunch.

"I think it's so fitting we're holding this celebration here today," she said, welcoming her guests to the White House.

"One of the things I love about the White House is how it truly is the people's house. It is a house that reflects the diversity of culture and traditions that make us who we are as a country. Nowruz is one of those traditions," she continued, according to BizPac Review.
Yeah, this clearly shows that she doesn't have the "level of class" of, say, Laura Bush, who hosted this same "lavish dinner" at the White House in honor of Nowruz in 2008. Here's a picture of Laura Bush from that dinner, speaking with an Iranian-American doctor who spoke at the dinner.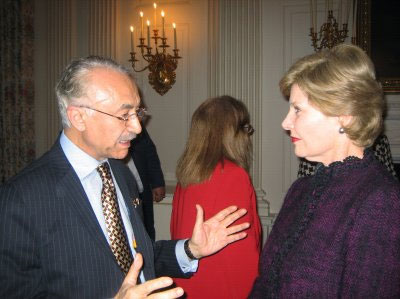 How classless, right? In fact, that was the first such dinner, though the White House has been issuing a declaration honoring the holiday every year since the first President Bush. That year George W. Bush sent out this declaration that sounds eerily similar to what Michelle Obama said:
Message on the Observance of Nowruz

March 16, 2005

I send greetings to those celebrating Nowruz.

Nowruz marks the arrival of a new year and the celebration of life. It has long been an opportunity to spend time with family and friends and enjoy the beauty of nature.

Many Americans who trace their heritage to Iran, Iraq, Afghanistan, Pakistan, Azerbaijan, Turkey, and Central Asia observe this special occasion to preserve their rich heritage and ensure that their values and traditions are passed on to future generations. This festival also reminds all Americans of the diversity that has made our Nation stronger and better.

Laura and I send our best wishes for peace and prosperity in the New Year.

George W. Bush
Diversity that makes our nation stronger? Who does he think he is, some Kenyan commie Muslim who hates America?
We would be remiss if we didn't point out that this isn't the first time an Islamic holiday has been celebrated in the Obama White House, as they have hosted celebrations in the past for Eid al-Fitr, a massive feast which marks the end of Ramadan.
And I would be remiss if I didn't point out that this is not a Muslim holiday, it's a Zoroastrian holiday. And that the first such dinner at the White House was hosted by Thomas Jefferson in 1805. The second President Bush hosted an Eid al-Fitr dinner all 8 years he was in the White House. I searched in vain for the Conservative Tribune's howls of outrage over it in any of those years. To be fair, though, those people were white.