After months of railing against the nomination of Loretta Lynch as the nation's next attorney general, Ted Cruz didn't even bother to show up to vote against her. Last week he said that his vote on Lynch was "unambiguously" and "unequivocally" no.
Regarding Lynch, the senator said to applause: "My vote on Loretta Lynch is going to be unambiguously no. Unequivocal."

Cruz said that his decision stemmed from his questions to Lynch during her confirmation hearings before the Senate Judiciary Committee, of which he is a member.

President Barack Obama nominated Lynch, the U.S. attorney for the Eastern District of New York, to succeed Attorney General Eric Holder in November.

Her confirmation vote has been held up in the Senate amid a stalemate between Republicans and Democrats over a sex-trafficking bill.
And I'm sure it would have been, if he'd bothered to even show up to cast that vote. On Thursday at 1:37 pm, Lynch was confirmed by a 53-46 vote. The one missing vote? Cruz.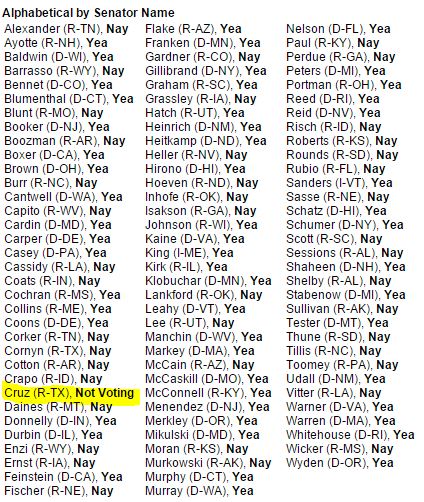 Why would he miss a vote he had raged about for so long? Probably to make it to Texas in time for a fundraiser put on at the home of a rich benefactor. Gotta have your priorities right.