As evidence of just how far the Republican party has gone off the conspiracy theory deep end, 1/3 of Republicans polled by PPP think that the Jade Helm 15 military training exercise means "the government is trying to take over Texas." Almost another 1/3 haven't made up their minds. Only 40% say they don't think that's true.

Interesting that Ted Cruz supporters buy into it by a huge margin, 56% to 21%, and a full 76% of Rick Perry supporters think the federal government is plotting to take over a state that is already under their control. That's bloody genius. And the Tea Party contingent is even worse: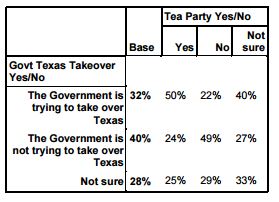 None of this should be remotely surprising, of course.