As the Supreme Court prepares to issue a ruling on whether gay couples can get married nationwide, Gallup's tracking poll on public support for marriage equality continues to show greater acceptance and support. The most recent poll shows 60% of Americans support marriage equality, with 37% opposed.
Sixty percent of Americans now support same-sex marriage, as the Supreme Court prepares to rule on its constitutionality next month. This is up from 55% last year and is the highest Gallup has found on the question since it was first asked in 1996.

Public support for the legality of same-sex marriage first reached a majority in 2011, when 53% supported it. Since then, support has ranged from 48% to 55%. The five-percentage-point increase in this year's Values and Beliefs poll, conducted May 6-10, is the largest year-to-year climb since 2011, when support rose by nine points.

Support for the legality of gay marriages in the U.S. has been a fast-changing trend. Just two decades ago, only 27% of Americans backed gay marriage, while 68% opposed. By 2005, the percentage in favor had increased by 10 points to 37%, and by 2010 it had reached 44%.
You can see the trend in this chart: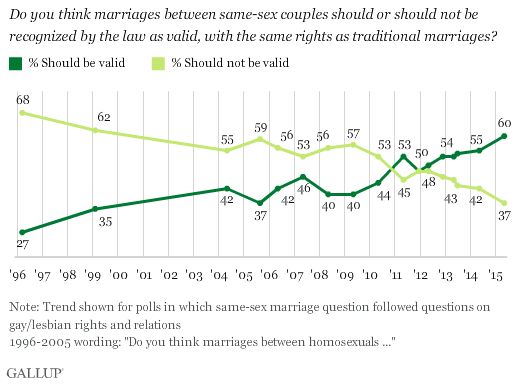 It really is a remarkable shift in public opinion in a very short period of time. That's one of the benefits of a tracking poll rather than an occasional one, you get to see the trends using the same questions and the same methodology.