A pro-Confederate southern nationalist type who goes by the name David RevStylez James put his racism and ignorance on public display on his Facebook page, demanding to know why a monument to the Black Panthers in Detroit is allowed to stay up while their Confederate "monuments to freedom" are taken down.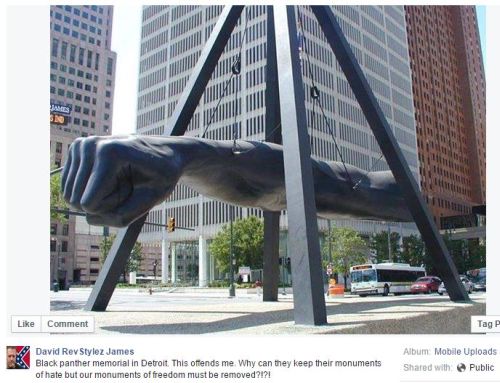 There's just one problem: That monument has nothing remotely to do with the Black Panthers, it's a monument to Joe Louis, the great boxing champion who was from Detroit. Despite having that pointed out by multiple people in the comments, his fellow sophisticates ranted and raved about this horrible injustice:
Charles Mauck I AGREE 2 IT 2!!! That is such bull shit that the can keep their monument but want us 2 tare ours down

Jerry Martin Gibson Csa I'm sick of all the roads named after Martin Luther King Junior

Randy Alford very offensive, it must be destroyed

Janet Lee Burch Futrell Realy.. But you want to take down our FLAG !!!!

Steve Boots Mccurry I want it down now

Destry Brown blow it up

Cindy Anne Haney Take it down now!
The post was then deleted, along with James' entire profile, apparently.