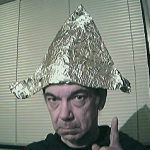 The headline on the front page of the Worldnetdaily screams, "Obama finds legal way to stay in White House?" When you click on it, the headline on the actual article changes to "Michelle Obama to jump in race for president? Rumors run wild about first family finding way to stay in White House." And then you read the article and what is the basis for these alleged "wild rumors"? This:

So how about the gauntlet being thrown down by … Michelle Obama?

There already are some commenting on the idea.

WND commentator Star Parker told WND she was at a book signing in Washington this week and was asked about the possibility.

She admitted she's watching that possible development closely.

"I've even seen bumper stickers that say Michelle 2016," Parker told WND. "Until the primaries are absolutely closed, my eye is on Michelle."

She suggested there's a behind-the-scenes move developing that is turning her into a cause celebre.
Yep, that's it. It isn't even a rumor, it's someone being asked about a rumor and then commenting about being asked about a rumor. That is the nano-meter thin thread upon which this very long article is based. It's not journalism, it's the Worldnetdaily.