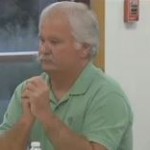 On Thursday I had lunch with an old colleague from the American Independent News Network who is now doing reporting on state and local government (primarily technology stuff, not politics). And I told him my theory that as bad as Congress is, if you really want to find the frauds, extremists and assholes, you gotta go to the local government. Here's a perfect example of what I was talking about:

A divided Perry County School Board voted Tuesday night to censure a board member for inappropriate conduct.

During a special meeting at the career center, the board voted 4-3 to censure Mark Gremaud for derogatory comments the board said he directed at a fellow board member Kathy Carron.

During a recent closed executive meeting, Gremaud is alleged to have addressed Carron, saying "Kathy, you are just a woman. The only thing you know is laying on your back with your legs in the air splayed."…

Gremaud was not allowed to speak during Tuesday's meeting. He requested to do so once, and asked to speak with his attorney.

Weibrecht and Kevin Bachmann took up for Gremaud, explaining in front of the large crowd gathered the remark was made during "heated debate" in closed session and that Gremaud already had apologized and tried to explain it wasn't meant to be sexual in nature.
The board also voted by the same margin to ask Gremaud to resign. The fact that three of them voted not to do that is really kind of astonishing. Seriously, what would you have to do to warrant censure if not that? And good luck explaining that this comment was not sexual in nature. If it wasn't sexual, what else could it possibly be?
Local government bodies are loaded with people like this. It takes very little to get elected to a local school board, city council or county commission and it tends to attract a Star Wars cantina full of idiots, bigots and borderline personalities.