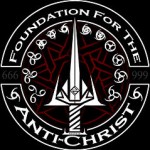 I really wish the Christian right would get together and decide whether Barack Obama actually is the Antichrist, or the "false prophet," of some other identity that figures into their end-times fantasies. Last week the Worldnetdaily told us that Obama is not the Antichrist but is merely the false prophet. But their ideological sister site, BarbWire, now informs us that Obama actually is the Antichrist and was put in power by Satan himself.

Revelation chapter thirteen makes it very clear that the anti-Christ would be a worker of wonders and seducer of the world. And that he would systematically seek to destroy the Seed of Christ on the earth.

The Anti-Christ of the book of Revelation is an individual who wields world-wide power and world-wide influence. His hatred for Christ and the people of Christ is legendary and very real.

To any observant individual Obama embodies all the characteristics of the legendary nemesis.

Obama's reaction to the suffering of people such as Pastor Sayeed in Iran is, if nothing else, a manifestation of anti-Christian bigotry. And frankly, I wouldn't surprise me if he goes down as history's Anti-Christ of Revelation.
Let me put it this way: not only is Obama the most powerful jihadist in the World – he is in my estimation anti-Christ – if not the Anti-Christ foretold in the book of Revelation.
Tim LaHaye, could you please settle this all for us? Inquiring minds want to know.