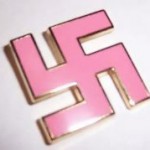 Ken Barun used to work in the White House as an aide to Nancy Reagan, but now he works for the Billy Graham Evangelical Association. He was on the Family Research Council's radio show Washington Watch this week to promote Franklin Graham's upcoming speaking tour and he told host Craig James how terribly the sight of the White House lit up in rainbow colors affected him emotionally.

Barun, who worked for Nancy Reagan in the White House, told James that upon seeing the White House lit up in "the gay colors" to celebrate LGBT Pride Month in June, "it was like someone stabbed me in the gut."

"To cast sin in front of that house was abominable," he said.

James agreed with Barun's assessment, telling a story about how one of his friends thought his late grandparents "would throw up" if they knew what America is like today.
*sniff* It's just so sad, you know? I feel so terrible that this poor man felt "stabbed in the gut" by the idea that we should treat gay people as human beings with equal rights. How dare President Obama put him through such emotional trauma with multicolored lights! You'll rue the day, Obama! He will have his revenge, in this life or the next!
And how come no one thinks of the poor long-dead grandparents who hated gay people and would hypothetically throw up at the notion of equal rights? All you bleeding heart liberals claim to be for tolerance and understanding, but do you care that these people who no longer exist would actually vomit as a result of your actions? No, you don't! Because that's the way your father Satan wants you to be!