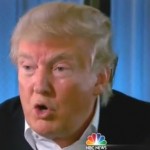 Having already infuriated women everywhere with his blatant misogyny, Donald Trump just keeps on upping the ante and digging the hole deeper. He just gets to talking and stupid shit comes out of his mouth, like in a recent speech when he started attacking Hillary Clinton aide Huma Abedin and ended up saying that women who love their husbands can't be trusted with secrets because they'll tell them all about it.
"If you think that Huma isn't telling Anthony—who she's probably desperately in love with in all fairness to Anthony because why else would she marry this guy? Can you believe it? Can't see straight—Look, think of it, it's coming through Huma, she's got lots of stuff, lots of information and she's married to a bad guy. … Do you think there's even a five percent chance that she's not telling Anthony Weiner—now of a public relations firm—what the hell is coming across? Do you think there's even a little bit of a chance? I don't think so…"…

"Are there any women in this room who are in love with their husbands who wouldn't be telling them everything?"
And then he defended it, as he always does, because admitting you said something wrong would be a sign of weakness, according to those morons who think Donald Trump is some sort of alpha male superman.
Lest you think this was an off-the-cuff remark taken out of context, Trump defended his attacks on Abedin and Weiner, reiterating to NBC News that she shouldn't have access to confidential information. "I don't think she should have been part of the people receiving it, whether it's confidential, why would she be involved?" he said.
Why would this be true only of women? What about men who love their wives, can they be trusted with classified information? Or are only women so vulnerable and weak that they would blab secrets all over the place?