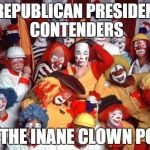 Kim Davis is such a celebrity among the most uber-Christian of the Republican presidential candidates, aka the Inane Clown Posse, that they're competing with one another to see who can get closest to her. When she was released from jail on Tuesday morning, Mike Huckabee got there first and got to hug her as she walked out, while Ted Cruz got cock-blocked by one of Huckabee's aides and kept off the makeshift stage.

The rally Tuesday had been scheduled before it was known whether Ms. Davis would be released. Senator Ted Cruz of Texas, also a Republican presidential contender, made an appearance, but it was Mr. Huckabee, a former Baptist pastor, who grabbed the political spotlight.

When Senator Cruz exited the jail a throng of journalists beckoned him toward their microphones, but an aide to Mr. Huckabee blocked the path of Mr. Cruz, who appeared incredulous.

Moments later, Mr. Huckabee appeared, joined by Ms. Davis. He stuck close to her side as she approached the reporters, and again when she took the stage, and cast her fight as a choice of tyranny or religious freedom…

Mr. Cruz stood off to the side, keeping an unusually low profile during the event.
Ms. Davis walked out of the detention center about 2:35 p.m., flanked by Mr. Huckabee, Mr. Staver and her husband, Joe, and apparently dressed in the same clothes she wore during a court appearance last Thursday…
Poor Ted. I guess he gets to be the sad clown today.