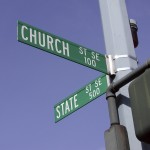 The city council of Coolidge, Arizona is, like many cities, populated mostly by morons. They just adopted a policy for opening their meetings with prayers, as the Supreme Court ruling in Greece v Galloway allows, but they limited it only to Christian prayers, which that ruling clearly forbids. Their own attorney told them they'd get sued and lose, but they decided to strike a blow for Jesus anyway.
Ignoring legal counsel and concerns about a possible lawsuit, a majority of the Coolidge City Council voted Monday to amend a resolution that would allow prayers before council meetings, including a stipulation that they be Christian.

Council members Steve Hudson, Rob Hudelson, Gary Lewis and Tatiana Murrieta all voted in favor of the Christian-only stipulation to the resolution, which was originally written to include ministers from any faith represented within the city limits. Mayor Jon Thompson and Councilman Gilbert Lopez voted against the amended resolution, with Vice Mayor Jacque Henry absent…

Speaking last was Hudelson, who himself is a preacher. He made clear his views that the United States is a Christian nation.

"I think it's very important," Hudelson said. "We just proclaimed Constitution Week. You know what was said at the end of the (Revolutionary) war? A treaty in Paris that said 'In the name of the most Holy and undivided Trinity.' You don't get that from the Quran. You get it from the Bible. You get it from Christianity. That's our heritage."

After that, Hudelson moved to accept the resolution with the stipulation that the prayer be Christian. Lewis seconded the motion, but Fitzgibbons said that would not be legal under Supreme Court rulings.

"That would complicate things," Fitzgibbons said. "The council would then be establishing Christianity (as the religion)."…

Fitzgibbons referenced the 2014 Supreme Court case Town of Greece v. Galloway, which allowed for prayers at council meetings as long as the prayer did not disparage some faiths, and as long as the opportunity to pray is offered to all faiths.

A similar case made its way through the courts in 2013, with the city of Lancaster, California, being sued after a prayer before one of its council meetings was made explicitly to Jesus Christ. The U.S. 9th Circuit Court of Appeals ruled in favor of the city, saying that prayers cannot be censored, and that Lancaster had done its part to invite other faiths to pray, an offer that was accepted by Muslims, Sikhs and Wiccans, among others.

Both cases, while upholding the municipalities' right to sponsor prayer, made it clear that being inclusive is a key reason why those prayers do not violate the Establishment Clause of the First Amendment of the Constitution, which states that no official religion can be set. This suggests that the city's standing if faced with a lawsuit over the Christian-only stipulation would be weak.
You're going to get sued. You're going to lose, badly. And then you're going to pay not only your own legal fees, but also the fees of the plaintiffs. And since your own attorney told you all of this, you might also lose qualified immunity and be forced to pay all of that out of your own personal bank accounts. And then I'm going to laugh my ass off.