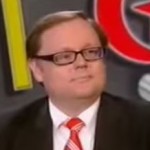 I often refer to Todd Starnes of Fox News as both a professional liar and a professional hysteric because of his modus operandi of wildly exaggerating and distorting stories that fit his narrative that Christians are terribly persecuted in this country. Jonathan Merritt writes at The Atlantic that this behavior has been going on much longer than I thought, that it basically marks his entire career.
At Baptist Press, Starnes proved to be both unashamedly conservative and journalistically unreliable. He published articles decrying "the homosexual agenda" in America, warning of "pro-homosexual attitudes" at Baptist colleges, and even bemoaned the "profanity, anti-God lyrics" of the band Nine Inch Nails. But Starnes landed in hot water in April 2003 when he published a profile of then U.S. Secretary of Education Rod Paige.

According to Starnes, Paige said he "would prefer to have a child in a school that has a strong appreciation for the values of the Christian community, where a child is taught to have a strong faith." The profile spawned national headlines and created outrage both among civil-rights groups and church-state watchdogs. And when at least a dozen members of Congress publicly called on Paige to either apologize for the remarks or resign, the secretary almost lost his job.

But the interview tapes showed that Starnes had misquoted Paige, making it seem as if the secretary favored promoting Christian values in public schools. Starnes was promptly fired by Baptist Press due to "factual and contextual errors" and "misrepresentations" in his reporting.

Such a public disgrace would be a career-ender for most journalists, but Starnes proved resilient. He was already working as director of university communications at Union University, a conservative Baptist college in Tennessee, by the time he was fired. Yet his tenure there was also short-lived for reasons that remain unclear.

"Todd served at Union for a very short time, and it was best for him to move on elsewhere," said David Dockery, who was president at Union during Starnes's tenure. When asked why he felt it was best for Starnes to move on, Dockery said that the problems were personal issues that he could not legally discuss…

In April 2013, he reported that the Obama administration was engaging in a "Christian cleansing" by blocking military access to the website of his former employer, the Southern Baptist Convention. As it turns out, the denomination's website was being blocked as Starnes reported, but not for the reasons he claimed. The site was merely blocked due to the detection of potential malware.

In September, Starnes reported that a proposed non-discrimination law in San Antonio would "force churches to have transgender bathrooms." Politifact reviewed this claim and "found nothing in the law" to support it, which led to the website rating the claim as "false."

In December 2013, Starnes reported that Veterans Administration hospitals in Texas and Georgia were guilty of anti-Christian bias because VA administrators had banned Christmas cards for patients. But blogger Alan Noble later investigated his claims and found that Starnes had deliberately omitted the portion of the VA statement that contradicted his thesis. According to the full statement, the hospitals simply asked their chaplaincy service to distribute religious-themed cards while the health care system distributed non-religious cards.

The same month, Starnes reported at FoxNews.com that a Georgia hospital had banned Christmas carols. But Noble's investigation revealed a similar finding—namely, that the hospital merely asked the Christian carolers, like all groups who come to the hospital, to perform religious songs in the chapel rather than in public areas out of respect for veterans of other faiths.

These examples—from 2013 alone—comprise a serious risk to Fox's credibility, but there's much more.
Fox never had any credibility to risk, of course, and the reason they tolerate this consistently dishonest reporting is because his lies fit the narrative they want to promote as well. Lies that support one's position aren't really lies, especially when they're done in the name of Jesus.