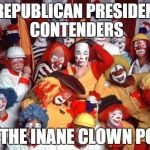 One of the few interesting and substantive exchanges during the second Republican presidential debate was over the subject of marijuana and whether federal anti-drug laws should be enforced in those states that have legalized marijuana for either medical or recreational use. Rand Paul's position was completely coherent — leave the states alone, end the drug war and treat it as a health problem, not a criminal one. Chris Christie came nowhere close to a coherent position.

TAPPER: Welcome back to CNN's Republican presidential debate at the Reagan Library here in Simi Valley — Simi Valley, California.

Many people on social media wanted us to ask about marijuana legalization. Senator Paul, Governor Christie recently said, quote, "if you're getting high in Colorado today," where marijuana has been legalized, "enjoy it until January 2017, because I will enforce the federal laws against marijuana." Will you?

PAUL: I think one of the great problems, and what American people don't like about politics, is hypocrisy. People have one standard for others and not for them — for themselves.

There is at least one prominent example on the stage of someone who says they smoked pot in high school, and yet the people going to — to jail for this are poor people, often African-Americans and often Hispanics, and yet the rich kids who use drugs aren't.

I personally think that this is a crime for which the only victim is the individual, and I think that America has to take a different attitude. I would like to see more rehabilitation and less incarceration. I'm a fan of the drug courts which try to direct you back towards work and less time in jail.

But the bottom line is the states. We say we like the 10th Amendment, until we start talking about this. And I think the federal government has gone too far, I think that the war on drugs has had a racial outcome, and really has been something that has really damaged our inner cities.

Not only do the drugs damage them, we damage them again by incarcerating them and then preventing them from getting employment over time.

So I don't think that the federal government should override the states. I believe in the 10th Amendment and I really will say that the states are left to themselves…

CHRISTIE: You know, I enjoy the interplay. Thank you, gentlemen.

I'll just say this, first off, New Jersey is the first state in the nation that now says if you are non-violent, non-dealing drug user, that you don't go to jail for your first offense. You go to mandatory treatment.

You see, Jake, I'm pro-life. And I think you need to be pro-life for more than just the time in the womb. It gets tougher when they get out of the womb. And when they're the 16-year-old drug addict in the Florida county lockup, that life is just as precious as the life in the womb.

And so, that's why I'm for rehabilitation, why I think the war on drugs has been a failure.

But I'll end with this. That doesn't mean we should be legalizing gate way drugs. And if Senator Paul thinks that the only victim is the person, look at the decrease in productivity, look at the way people get used and move on to other drugs when they use marijuana as a gateway drug, it is not them that are the only victims. Their families are the victims too, their children are the victims too, and their employers are the victims also.

That's why I'll enforce the federal law, while you can still put an emphasis on rehabilitation, which we've done in New Jersey…

PAUL: Understand what they're saying. if they're going to say we are going to enforce the federal law against what the state law is, they aren't really believing in the Tenth Amendment.

Governor Christie would go into Colorado, and if you're breaking any federal law on marijuana, even though the state law allows it, he would put you in jail. If a young mother is trying to give her child cannabis oil for medical marijuana for seizure treatment, he would put her in jail, if it violates federal law.

I would let Colorado do what the Tenth Amendment says. This power — we were never intended to have crime dealing at the federal level. Crime was supposed to be left to the states. Colorado has made their decision. And I don't want the federal government interfering and putting moms in jail, who are trying to get medicine for their kid…

CHRISTIE: And Senator Paul knows that that's simply not the truth.

In New Jersey, we have medical marijuana laws, which I supported and implemented. This is not medical marijuana. There's goes as much — a further step beyond. This is recreational use of marijuana.

This is much different. And so, while he would like to use a sympathetic story to back up his point, it doesn't work. I'm not against medical marijuana. We do it in New Jersey. But I'm against the recreational use against marijuana.

If he wants to change the federal law, get Congress to pass the law to change it, and get a president to sign it.

PAUL: May I respond? May I respond?

TAPPER: Yes, Senator Paul.

(APPLAUSE)

PAUL: Here is the thing, he doesn't want to make it about medical marijuana, but what if New Jersey's medical marijuana contradicts the federal law? He's saying he'll send the federal government in, and he will enforce the federal law. That's not consistent with the Tenth Amendment. It is not consistent with states' rights. And it is not consistent with the conservative vision for the country.

I don't think we should be sending the federal police in to arrest a mother and separate them from their child for giving a medicine to their child for seizures.
Christie is straining very hard to pretend that he would not jail people for the use of medical marijuana because New Jersey allows that. But that argument is obviously false. He says he will enforce federal drug laws in every state and federal law does not allow for any exemption for medical use of marijuana. If he actually means what he says, that means the use of medical marijuana would be treated as a federal crime in New Jersey and everywhere else, and that means Paul is right that he favors locking up users of medical marijuana. But he knows he can't say that because it's wildly unpopular.
And seriously, he's still arguing that marijuana is a gateway drug? Who the hell still believes such bullshit?