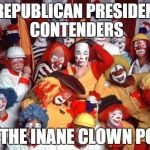 Wednesday night was the second Republican presidential debate and the fact checkers were busy pointing out the seemingly endless supply of lies and falsehoods being thrown around. In addition to Chris Christie yet again repeating the lie that he was named a federal prosecutor the day before 9/11 (it was actually three months later that he was nominated), let's look at a few of them. From CNN:
Fact check: Christie says he supported medical marijuana.

"In New Jersey we have medical marijuana laws, which I have supported and implemented," Christie said. "This is not medical marijuana, this goes a much further step beyond. This is recreational use of marijuana. This is much different. And so while he (Rand Paul) would like to use the sympathetic story to back up his point it doesn't work. I am not against medical marijuana. We do it in New Jersey. But I am against the recreational use of marijuana."

Christie did support a modest expansion of the state's medical marijuana program in 2013, but that was after he fought the implementation of the program signed by his Democratic predecessor, Jon Corzine. And, one year after he signed the medical marijuana expansion, he criticized medical marijuana as a "front for legalization."

Christie did allow an expansion of the medical marijuana program created by his predecessor, but he never mentioned the times he fought medical marijuana in his debate answer.
And Ted Cruz still lying about the Iran deal:
Fact check: Sen. Ted Cruz's criticism of the Iran nuclear agreement.

"There are several facilities in Iran they designate as military facilities that are off-limit altogether," the Texas senator said. "Beyond that, the other facilities, we give them 24 days' notice before inspecting them. That is designed to allow them to hide the evidence and most astonishingly, this agreement trusts the Iranians to inspect themselves."

The Additional Protocol, which Iran signed onto under the nuclear agreement, allows the International Atomic Energy Agency, a U.N. nuclear watchdog agency, to seek access to any site, including military sites.

Specific access is determined by a parallel agreement between Iran and the IAEA, often referred to by the deal's detractors as "secret side deals."

The 24-day window Cruz referred to comes into play if Iran and the IAEA are not able to agree on access to a particular site.

From the time IAEA requests access to that site, they and Iran have 14 days to either arrange access or find another way to address the IAEA's concerns to that group's satisfaction. If its concerns aren't met, the P5+1 members (which consists of the U.S., Russia, China, France, the UK and Germany) have a week to determine a way to address it, and Iran has three days to comply with their order.

The notion of self-inspections first arose when details of a draft of the so-called "side deal" between Iran and the IAEA were reported in the media.

They revealed that Iran would participate in monitoring and inspecting the Parchin military facility, which the West suspects that Iran has used for military nuclear work.

U.S. officials say that while Iranians would have a role in inspecting the site, inspectors from other countries will participate as well and the IAEA would be monitoring the process throughout. The leader of the IAEA said the suggestion of self-inspections "misrepresent the way in which we will undertake this important verification work."

But neither the United States nor the IAEA have made the agreement public, citing precedent in keeping IAEA pacts confidential.

Cruz's assertion falsely suggests that all nuclear inspections in Iran would be conducted by the Iranians, but without access to the full document, it's unclear exactly how inspections at Parchin will proceed. And the assertion that military facilities are entirely off-limits is also false.
And Trump, claiming that he didn't lobby for legalized casinos in Florida:
Fact check: Trump says he never lobbied Bush for casinos in Florida.

Bush knocked Trump, saying, "The one guy that had special interests that I know of that tried to get me to change my views and was generous and gave me money was Donald Trump. He wanted casino gambling in Florida."

Trump flatly replied, "No, I didn't."

But although Trump himself never personally appealed to Bush for casino gambling in Florida, he had lobbyists do so on his behalf, and he ultimately lost. Trump hosted a high-dollar fundraiser for Bush in 1998, shortly before he won office, and gave $50,000 to the Florida Republican Party. But upon taking office, Bush stuck to his stance against gambling and Trump's proposed casino never materialized.

VERDICT: False
And Trump lying about his bankruptcies:
Fact check: Trump says he never went bankrupt.

There have been two comments so far about Trump and bankruptcy: At the prime-time debate, the mogul said he never went bankrupt, hours after former New York Gov. George Pataki said in the earlier debate that every one of Trump's Atlantic City casinos went bust.

Trump himself has never filed for personal bankruptcy. But he has filed four business bankruptcies — Trump Taj Mahal, 1991; Trump Castle Associates, 1992; Trump Hotel & Casino Resort, 2004; and Trump Entertainment Resorts, 2009 — which Bankruptcy.com says makes Trump the top filer in recent decades. All of them were centered around casinos he used to own in Atlantic City. They were all Chapter 11 restructurings, which lets a company stay in business while shedding debt it owes to banks, employees and suppliers.

Trump claims that successful businesses file for bankruptcy all the time. At the August debate, he said, "Virtually every person that you read about on the front page of the business sections, they've used the (bankruptcy) law."

But the facts don't back up that comment. Fewer than 20% of public companies with assets of $1 billion or more have filed for bankruptcy in the last 30 years, according to data from Bankruptcy.com and S&P Capital IQ.
And bear in mind that Trump made a big deal about how we need a great businessman in the White House because the country is trillions of dollars in debt. But why did Trump's companies declare bankruptcy? To shed their debt. That's how he's handled it, by screwing over the companies that financed his hotels. A country can't do that.
And lastly, Bobby Jindal lies about Syrian refugees:
Fact check: Bobby Jindal says letting more Syrian refugees into the U.S. would involve a circumvention of the normal immigrant vetting process.

"The answer to this is not to put a Band-Aid on this and allow even more people to come into America," Jindal said at the first debate. "We should not short-circuit the vetting process — we've got a normal vetting process. Simply allowing more people into our country doesn't solve this problem," Jindal said.

Actually, the increase the Obama administration is proposing would be managed through the normal process within the U.S. Refugee Admissions Program.

The 10,000 refugees the administration plans to admit in fiscal year 2016 will follow this multi-step process, which involved registering with the United Nations High Commission for Refugees, then undergoing a physical exam, interview and interagency security vetting.

Once they've completed this process, the refugees will be referred to approved sponsor agencies in the U.S. that will facilitate their integration into American life.

The president of the United States, in consultation with Congress, sets the quota for how many refugees can be admitted through the U.S. Refugee Admissions Program at the beginning of each fiscal year, and can change that number mid-year if there is a humanitarian refugee crisis.

VERDICT: False
And let's remember why he's telling this lie: In order to create unjustified fear. They're going to let all these Muslims in here and they aren't even going to do a background check on them! They're going to let terrorists in the country to kill us! All bullshit. Convenient bullshit, but still bullshit.