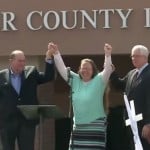 Kim Davis and Liberty Counsel have lost another round in court, this time over an emergency motion to suspend Judge David Bunning's expanded injunction requiring her to issue marriage licenses to all eligible couples who apply for one in Rowan County. I know it seems like that was already settled, but let me explain why this motion was filed and what specifically led to their motion in the first place.

When Judge Bunning initially issued his injunction on August 12 ordering Davis to issue marriage licenses, it was only to the couples who had filed the suit against her — that is, it only covered the actual parties to those proceedings. On September 3, however, he expanded that injunction to cover any and all legally eligible couples who applied for a license in Rowan County. Davis' attorneys from Liberty Counsel immediately filed a motion asking the 6th Circuit Court of Appeals to stay that order, but the appeals court rejected it because they hadn't first filed that motion with the district court and had it rejected.
So on September 18, her attorneys filed an emergency motion in Judge Bunning's court asking him to suspend the expanded injunction, arguing that the judge lacked the jurisdiction to issue an injunction that applied to those who are not a party to the case. They also noted that the the plaintiffs in the case had not asked the judge to extend the order to cover all eligible couples. On Wednesday, Judge Bunning ruled on that motion and, unsurprisingly, rejected it.
Davis argues that she is entitled to a stay because she has established a strong likelihood of success on the merits of her appeal of the Court's September 3, 2015 Order. Specifically, she contends that the Order is null and void because the Court entered it after she appealed the initial preliminary injunction to the Sixth Circuit. Davis further insists that the Order does not fit within the confines of Federal Rule of Civil Procedure 62(c), which permits a district court to modify a preliminary injunction during the pendency of an
interlocutory appeal. Rather, she characterizes the Court's Order as an impermissible "expan[sion of] the class of persons entitled to licenses pursuant to the [i]njunction."…

The Court believes that its decision to grant Plaintiffs' Motion to Clarify is consistent with both interpretations of Rule 62(c). In its initial injunction order, the Court simply granted Plaintiffs' request for relief and enjoined Davis from applying her "no marriage licenses" policy to Plaintiffs. However, it soon became apparent that Davis denied marriage license requests submitted by other couples, including, but not limited to, Plaintiffs in two companion cases before this Court. Had the Court declined to clarify that its ruling applied to all eligible couples seeking a marriage license in Rowan County, it would have effectively granted Plaintiffs' request for injunctive relief and left other eligible couples at the mercy of Davis' "no marriage licenses" policy, which the Court found to be in violation of the Supreme Court's decision in Obergefell v. Hodges. Such an approach would not only create piecemeal litigation, it would be inconsistent with basic
principles of justice and fairness. Thus, when the need arose, the Court clarified that its ruling applied with equal force to all marriage license applicants in Rowan County, regardless of their involvement in this litigation.
I'm sure Davis' lawyers will now go back to the 6th Circuit Court of Appeals and refile their request for a stay of that order, but I doubt they'll win. But remember what this means. Davis has already altered the marriage licenses to make it clear that they are not being issued under her authority, which is the accommodation she demanded (whether that is legal or in compliance with the injunction we will soon find out). But that still isn't enough for her. She's still demanding the right to deny marriage licenses to any couple, gay or straight, that has not yet sued her over it.
Her lawyers know she can't win on this, but they didn't bring this suit because they think they can win. They brought it solely as a fundraising tool.