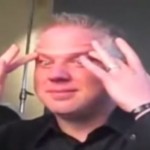 In a rather odd turn of events, Glenn Beck is now promoting Seven Mountains theology, a dominionist Christian theology that says Christians must take control of what they consider the seven key institutions of human societies. He invited David Barton on his show, as he so often does, along with George Barna, a Christian right pollster, to discuss the matter.
GLENN: I want to give you the seven mountains of culture. Business, government, media, arts, and entertainment, education, family, and religion. Those are seven mountains of culture. And if you want to destroy or build a culture, you have to have those seven mountains. We have lost the mountain of business. They don't even teach ethics anymore. We're not teaching moral sentiments anymore. We're just teaching raw capitalism. The best business schools in the country, when the professor stands up and says, "Okay, so here's your case study, was that good or bad, was that right or wrong? The hands go up and say, did it make money?" And so we've lost business.

We've lost government. The media, I don't know if we've ever had. Arts and entertainment, we've never had. Education is gone to us. The last two mountains of culture — and if we lose these two, we're done. The family. It is absolutely under attack. And the last one is religion. And religion, I think at this point, is neutral. It could go either way. The same thing with the family. But it is certainly not a positive impact. And I will get into that here, just a bit with this amazing pollster and researcher on the culture, George Barna. And he's with the Barna Group. And he's a Christian polling firm that goes out and looks for what is affecting the culture. What is actually happening? David Barton is joining us, because this actually started with a conversation we had, how long ago, David Barton?

DAVID: Oh, it's probably been about almost two months ago, Glenn.

GLENN: Okay. So we started having a conversation — why don't you tell the story how we got here.

DAVID: Yeah, we were having a conversation, and you said, "We need to get people to get their pastors to preach about stuff. What do we ask them to preach about?" And I looked at you and said, "I don't have a clue, but I think I know someone who does." So I called George that night and said, "George, here's the deal. Glenn would like to have people ask their pastors to preach about certain things. What do people want to hear? What do they want to —

GLENN: Looking for leaders.

DAVID: Looking for leaders.

GLENN: In our pulpits.
Now here's what makes this weird: The self-declared "prophets" of Seven Mountains theology believe that Mormonism is a heretical cult, and if they took over and created a theocracy of the kind they want, Mormons would likely be persecuted.