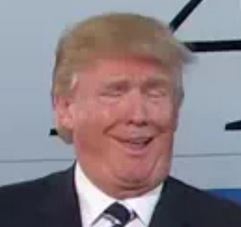 Donald Trump spoke at the Values Voters Summit on Friday and had the pandering turned up to 11. He waved around a bible he says his grandmother gave him (I'd love to see the actual bible; I bet it was made last year in China) and told the crowd that if he's elected president, people will damn well say Merry Christmas in department stores because, in the bizarro world he lives in, no one says that phrase anymore.

"The word Christmas, I love Christmas," Trump said. "You go to stores, you don't see the word 'Christmas.' It says 'happy holidays' all over. I say, 'where's Christmas?'"

"I tell my wife, don't go to those stores," he continued, as the crowd began cheering. "I want to see Christmas. You know, other people can have their holidays, but Christmas is Christmas. I want to see 'Merry Christmas.' Remember the expression, 'Merry Christmas?' You don't see it anymore. You're going to see it if I get elected, I can tell you that right now."

Trump did not explain how he would, as president, compel business owners to promote Christian expressions.
This was incredibly predictable, though: He'd better start with his own chain of hotels.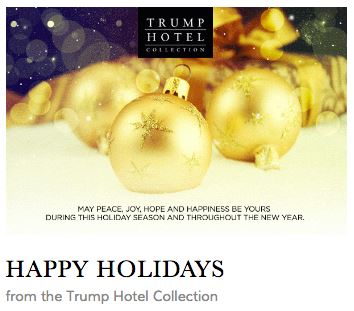 Or with his own Twitter account: