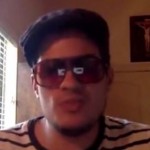 Ted Shoebat, the Christian fascist son of fake "ex-terrorist" Walid Shoebat, is once again calling for the wholesale extermination of gay people, while admitting that he hates democracy and instead wants a global Christian theocracy that would launch a new "inquisition" to kill, all modeled after the Old Testament law, of course. I certainly hope someone is keeping a close eye on this guy before he goes on a killing spree.

The only solution, he declared, is the imposition of a global law criminalizing homosexuality that will be enforced by a modern-day Inquisition with the power to put gays to death.

"I'm sick and tired of the homo tyranny," he said. "What the world needs is a collective law … What we need is the laws of God, the virtues of Heaven to become the law of the world. That is the bottom line. Do I believe in Christian world domination? Absolutely. I would be a liar if I said I didn't. Do I believe in Christian supremacy? Absolutely. Do I believe in democracy? Hell no. Do I believe in some sort of a democratic socialist republic? Hell no. I believe in monarchy, I believe in Inquisitions, I believe we need to revive the system of the Middle Ages that we had; we had no fag problems, we didn't have a lot of serial killers back in those days, we didn't have frickin drug cartel problems, we had none of the crap. We didn't have no fags asking to be married. None of that garbage."

"It's homo tyranny and it needs to be destroyed," Shoebat continued, "Christian world domination needs to be established and homosexuality needs to be deemed as a crime. And the homos need to be told, hey, you gotta stop that and if they don't stop that then, I'm sorry, we have an Inquisition and that Inquisition will enact the death penalty, as Scripture tells us."
Oh yes, those "virtues of heaven" like committing genocide. Seriously, this is exactly the kind of person who snaps and tries to bomb a gay bar, or worse. His father may be a fake ex-terrorist, but I would not be even remotely surprised if Ted turns out to be a real one.