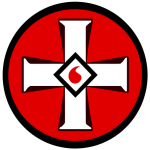 And we have yet another example of a totally not racist person being racist. A Houston resident painted "white power" and "KKK" on the steel fence surrounded his house, but he says he's not a racist at all. His proof of not being racist: He was in prison and doesn't have any racist tattoos. He says the painted message "has nothing to do with race" and then, literally seconds later, "It does have something to do with race."

Donald Burns is using the corrugated steel surrounding his southeast Houston property to espouse a message of persecution that some feel is racist. Burns readily admits he is the one who painted the words "white power" and KKK on his fence.

"This is called freedom of speech and it's supposed to be offensive," said Burns, who is white and lives in a predominantly African-American neighborhood. "This is here because this is the reaction that I want."

Burns said he has been unfairly targeted by the area's civic club, which has peppered his property with deed restriction violations. Burns said he believes City Council and police are in cahoots with the organization. Burns said the deed restriction violations are part of "criminal acts."

Burns said he says he painted the signs only to draw attention to his plight, but insist it's not racism.

"Has nothing to do with race, it has a problem with black property owners and what they've got away with. It does have something to do with race," said Burns.

That bit of tortured logic is hard for many in the neighborhood to follow…

To further prove he is not racist, Burns introduced us to an African-American woman he said is his girlfriend and took off his shirt to show he received no white supremacist tattoos during his time in prison for auto theft.

"Since 1977 I've been in and out of your prisons, you don't see no marks of that (expletive) hate on me," said Burns.
I bet he even lets his girlfriend use his bathroom.