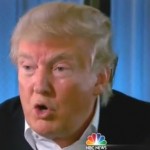 The ghastly civil war in Syria has killed about 240,000 people so far, which is why millions have fled the bombs and the mass killings going on. Most of them have ended up in Turkey and Jordan as the rest of the world mostly ignores the problem. The United States is now taking in a few thousand of them, a mere pittance, and just a few weeks ago Donald Trump said we had to do this because it was an "unbelievable humanitarian problem." And now:

If he becomes the president, Republican presidential candidate frontrunner Donald Trump would send Syrian refugees in the United States back to their country. At a rally in New Hampshire on Wednesday night, Trump told a cheering crowd, "If I win, they're going back."

"I hear we want to take in 200,000 Syrians, right?" Trump said. "And they could be — listen, they could be ISIS," referencing the radical Sunni group Islamic State.

Last month, U.S. Secretary of State John Kerry said the Obama administration would increase the number of international refugees permitted to enter the country to 100,000 by 2017 from its current annual cap set at 70,000. The United States has been under pressure to increase its assistance to Syrian refugees as millions of people have been fleeing violence and unrest in that Middle East nation, often making treacherous journeys across the Mediterranean Sea despite the risk of drowning.

But at Wednesday's event, Trump suggested that Syrian refugees could be using their migration as a "tactical ploy" to build up a large army. "Why are they migrating all over Europe?" he said. "I'm putting the people on notice that are coming here from Syria as part of this mass migration, that if I win, they're going back. They're going back."
How humanitarian of you, Donald! Did you learn about this in that Bible you claim to love so much? This is just raw bigotry and inhumanity. But he's a Christian "big league." And that's exactly what Jesus would do, amirite?