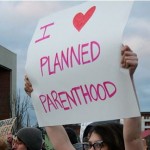 For the second time in a couple weeks, a Planned Parenthood clinic has been set on fire by an arsonist. The last one was in Washington, this was is in Thousand Oaks, California, where domestic terrorists apparently threw a rock through a window, poured gasoline in and set the office on fire. This same office was vandalized just a few weeks ago. But I'm sure none of those good Christian "pro-lifers" could have done this, right?
A fire Wednesday night at a Planned Parenthood facility in Thousand Oaks was determined to be arson, authorities said.

Ventura County sheriff's Capt. John Reilly said Thursday someone likely used a rock to shatter a window at the Planned Parenthood facility in the 1200 block of West Hillcrest Drive, then threw gasoline inside the office and ignited it.

The attack comes more than six weeks after the office was vandalized, he said. Details about the vandalism were not immediately available, but Reilly said it was minor…

A few plants near the window were black, but the fire was extinguished quickly because of the sprinkler system, Lohman said.

"You're putting the community at risk when you're doing something like this," Lohman said. "The reasons behind why the person did what they did, we don't know. And that's going to be part of the investigation and hopefully give us some foresight into why they targeted this specific location. Whether it's the stuff that's in the news recently, we don't know."
This is my total lack of surprise.